This shop has been compensated by Collective Bias, Inc. and its advertiser. All opinions are mine alone. #ProtectFromPetMess #SeasonalSolutions #CollectiveBias
Calling all pet parents! Want to throw your four legged companion a "pawty" this upcoming holiday season but want to avoid a mess. I'm sharing all of my tips for a mess free dog party.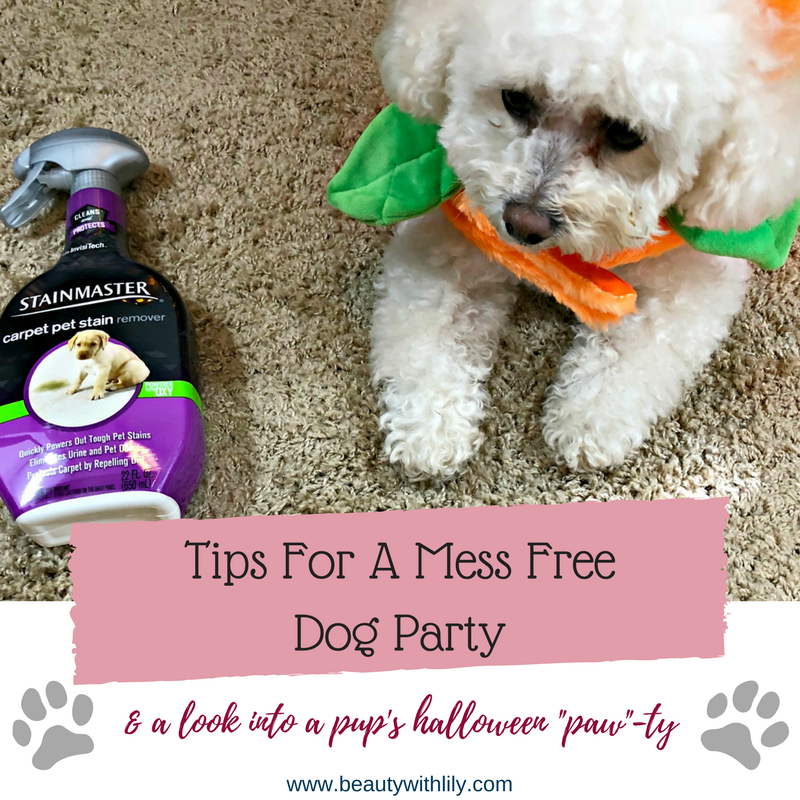 This post may contain affiliate links. Meaning that any clicks/purchases may result in a small commission to keeping Beauty With Lily running. 
It's that time of year for all of the parties — but we can't forget about our little four-legged friends, can we? In today's post I'm sharing all of my tips for a mess free dog party. Our little buddy, Charlie had a Halloween "Paw"-ty and invited some of his cousins and friends over for tons of fun, treats and play time. PS – The image below is shoppable, just click it and it will take you directly to the site!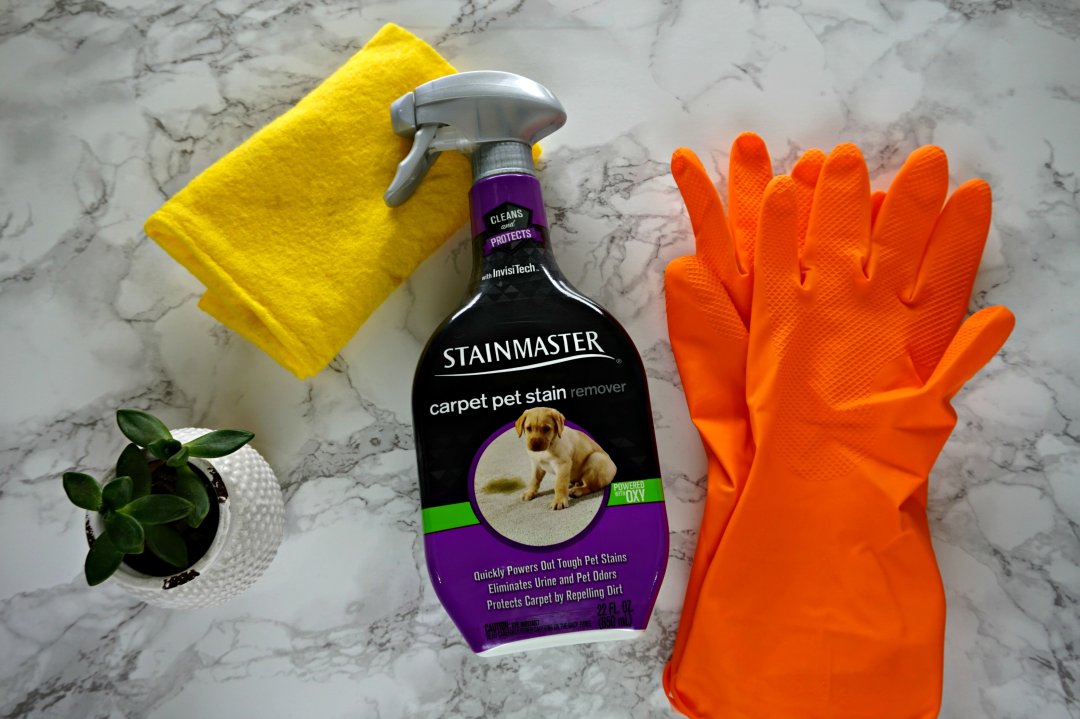 Tips For A Mess Free Dog Party
Choose Your Guests Wisely 
It would be nice to invite every dog on the block but not all dogs get along with each other — rough, aggressive dogs can cause chaos and mess. So it's best to avoid that. Keeping it small and intimate is probably the best way to go.
Have A "Drop All" Area 
This should be the area where guests arrive and drop all of there things — dog leashes, bags, etc. Having a separate area for this will help keep things all in our specific place and it will be easier for pet parents to find their things on their way out.
Set Up A Cleaning Area 
An accident is bound to happen, maybe a pup had too much water or too many treats. So setting up an area with wet wipes, doggie bags, and a bottle of STAINMASTER®™ Carpet Pet Stain Remover would be ideal for carpets. We all know that pets and carpets aren't always the best match, but thankfully the STAINMASTER Carpet Pet Stain Remover lifts away tough pet stains and it even eliminates odors. If you are a seasoned pet owner, you probably know that some carpet pet cleaners leave a sticky residue that attracts dirt over time, well, not this one. It has a breakthrough technology that is designed to quickly clean on contact and repel dirt to protect against re-soiling to keep your carpet looking newer longer. And, no nasty odors thanks to the powerful ODOR REMOVE™ technology, which starts to eliminate odors within minutes.
So like I said, this would be perfect to keep handy and help remove stubborn pet stains, like urine, vomit, and feces, and everyday stains like coffee, grape juice, jelly, chocolate syrup, ketchup, dirty motor oil, and soil. You don't want to be a bit careful though STAINMASTER recommends not using this product on upholstery, handmade, viscose, natural fibers (including wool and cotton), oriental, antique or bath rugs. Their products are designed for use on stain resistant, nylon, polyester and polypropylene color-fast carpets and rugs.
Oh and have I mentioned how easy it is to use this product! You simply:
SPRAY: Spray product liberally and directly on affected areas.
WAIT: Wait 3-5 minutes to allow solution to penetrate the stain.
BLOT: Dampen the spot with water and blot with a clean, colorfast paper towel or cloth. Repeat as necessary to remove the stain. For best results treat stain immediately.
Easy peasy! Who doesn't want a product that cleans and protects against future stains! And bonus points for being able to find it at Target!
Have A Dedicated Play Area
If being inside is your only option, set up a dedicated area for all of the pups to run around and have fun. And don't forget to keep the doors to any rooms closed — I'm sure you don't want any little wanderers.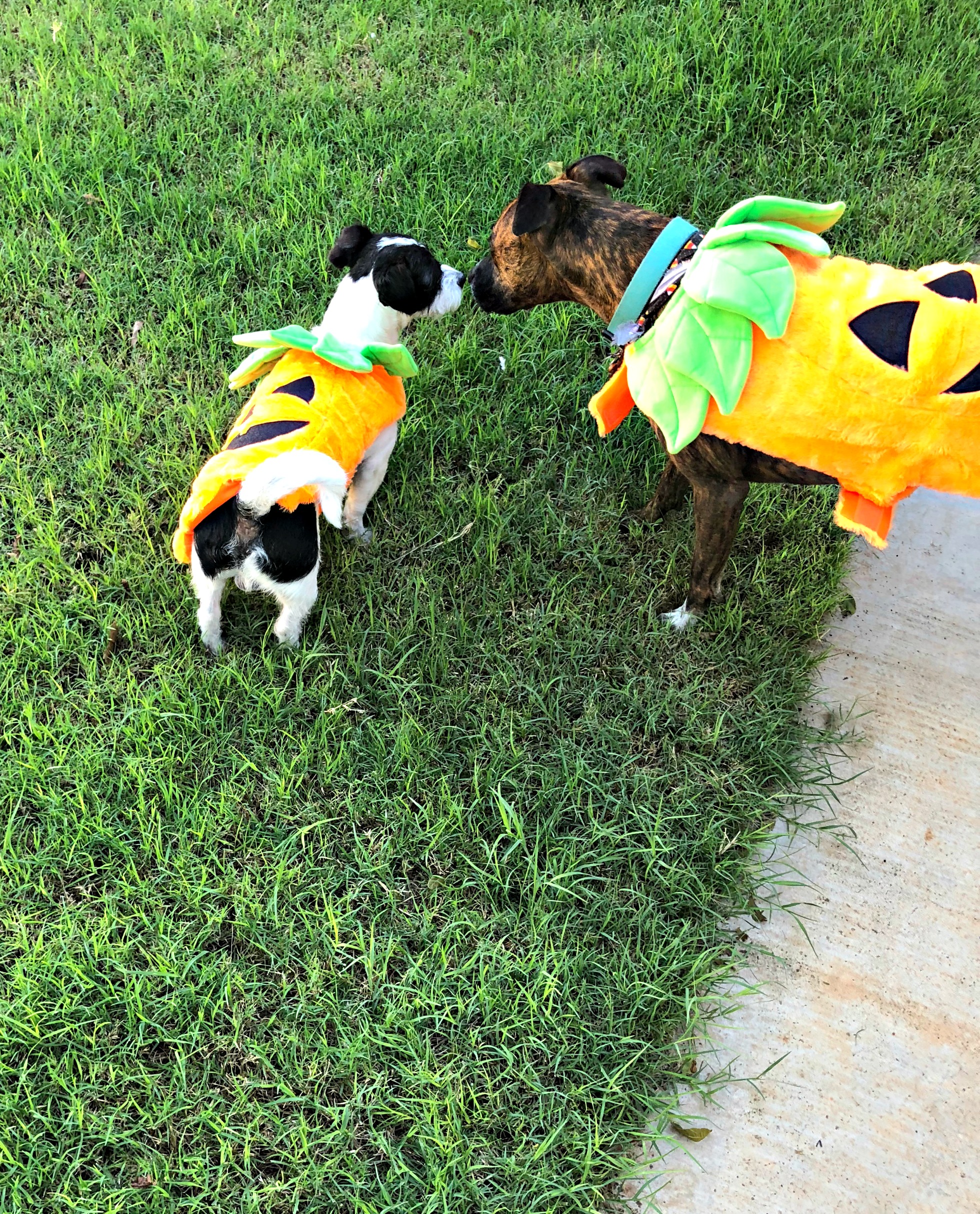 Keep Them Busy And Happy 
Especially if you plan on inviting puppies that like to wander, mark or chew on everything. Have plenty of toys out, play with them, and just wear them out. With that said, you might want to have a dedicated snooze area too — set up a few blankets and beds for those that get tired.
You Might Also Like // Dog Stocking Stuffer Idea + DIY Paw Print Ornament 
Tips For A Mess Free Dog Party
Click To Tweet
Visit the Sofab Life hub for even more seasonal solutions!
Have you thrown you four legged companion a party? Have any additional tips? 
Why not save this post for later, by pinning the image below! 
0