Need a quick Halloween makeup look? This easy voodoo doll Halloween makeup look might be the perfect choice. 
This post may contain affiliate links. Meaning that any clicks/purchases may result in a small commission to keeping Beauty With Lily running. 
You guys, this is my very first Halloween makeup look and I'm a bit nervous about it. It's definitely not on a professional look guys — but it takes practice and tons of patience. Now, I can't take credit for this look, I drew a ton of my inspiration from Taylor from Blonde & Ambitious. She filmed a VooDoo Doll Halloween look and she totally nailed it. Definitely check her out, she has TONS of Halloween looks up right now. 
Please don't forget to visit the other girls — they are incredible and we each have different styles. I'm sure you will find some great inspiration from them! Jasmine from Jasmine Maria, Ashleigh from Ashleigh Rose and Kelsie from Kelsie Kristine.
Easy VooDoo Doll Halloween Makeup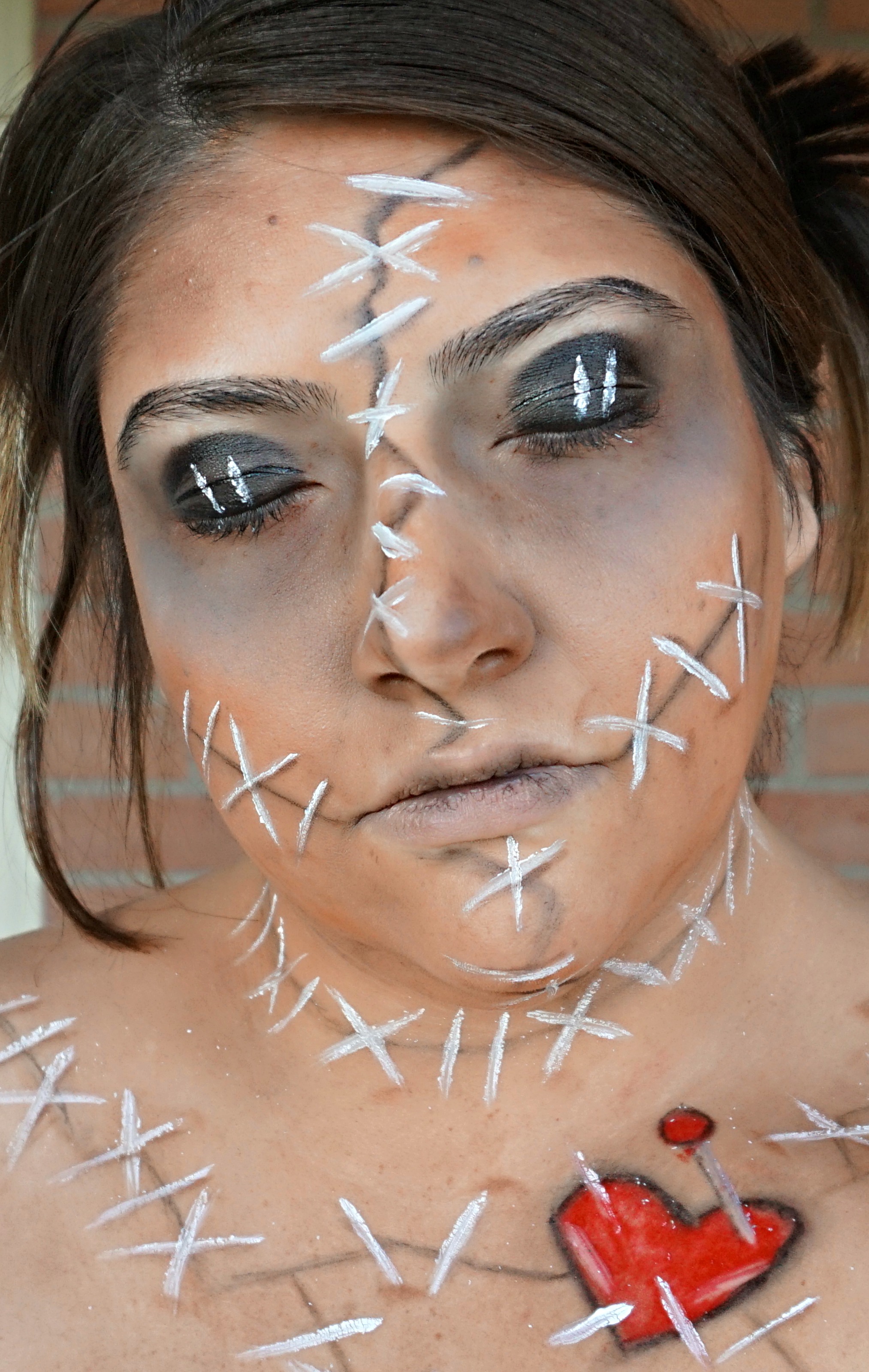 For this look, I started by using a foundation that was darker than my shade (I could have gone darker but didn't have anything on hand.) But instead of applying it evenly, I stippled onto the skin in a pretty messy way. I also went in with an orange and brown eyeshadow with a textured sponge and messily applied that all over my face and neck area. Using a darker, purple toned brown I went in to the areas of my face that I wanted to "contour" in a sense, also very messily. 
With a light, taupe brown shade, I drew in the lines, shaded them, went in with a darker brown, did more shading and added some black. It takes a lot of patience and blending. The white I used to draw in the stitches was so crappy! I definitely recommend at least buying a decent white cream paint if you do something like this.
I recommend having plenty of pictures to go off of and perhaps a few videos as well. It took me maybe an hour and a half to do this — mainly because of the difficult paint I was working with.
You Might Also Like // Vampy Lip Makeup Look
Previous Beauty Mix Posts //
Don't forget to visit the other ladies vampy makeup looks — you can find Jasmine's look here, Kelsie's look here, and Ashleigh's look here.
Are you a fan of Halloween? What are you dressing up as?
Liked this post/look? Please, pin the image below!
0