Looking for some simple plus-size Thanksgiving outfit inspiration? I'm sharing 3 casual and comfortable looks perfect for the holidays!
This post may contain affiliate links. Meaning that any clicks/purchases may result in a small commission to keeping Beauty With Lily running. 
Hi friends!! It's been awhile since I last shared a plus-size outfit inspiration post, so today that's exactly what I'm doing! I figured with the holidays around the corner, what better time to share these simple, casual looks. I partnered with PinkBlush to bring you guys these 3 looks, and I hope y'all love them as much as I do.  
Plus-Size Thanksgiving Outfit Inspiration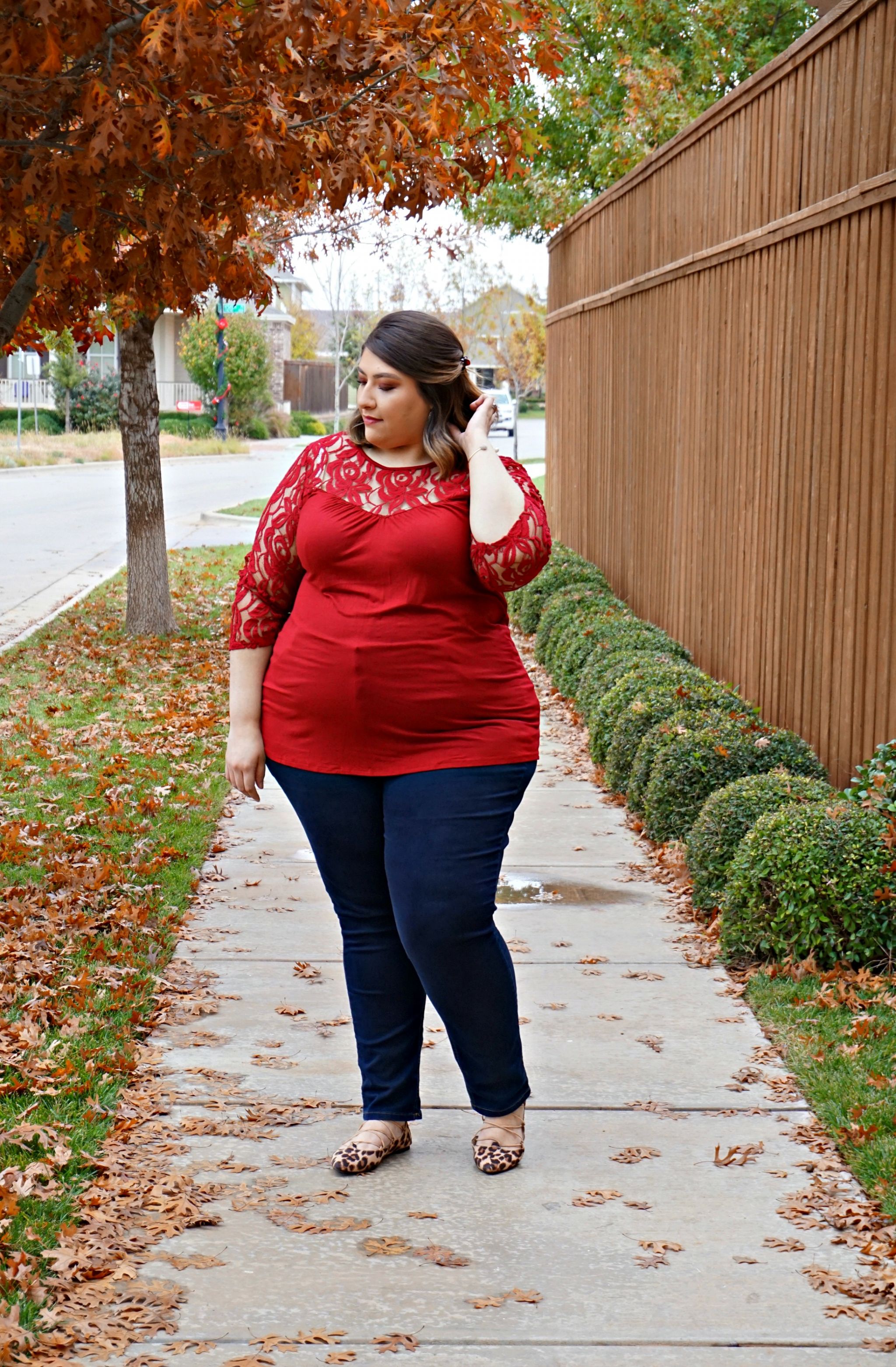 This gorgeous top screams holiday-season to me! On the PinkBlush website, it's described as a burgundy, but it definitely has more of a red tone to it — still a beautiful top, nonetheless. Since I want to be comfortable during Thanksgiving, and I'm sure you probably do too, I styled all of these looks with a classic pair of dark wash skinny jeans. 
This adorable sequin sleeve sweatshirt is great for cooler temps, definitely don't skip on the coat if it's really cold though. As this material is a bit thin, but super comfortable and stretchy. I just threw on a floppy hat and was good to go. You don't really need a ton of accessories, I think the little accent of sequins in the sleeves is good enough.
This cardigan is so soft and cozy! Initially I was going to style it with a simple navy top, but I ended up liking how it looked over the lace accent top from the first look. This piece will definitely keep you warm while you catch a nap after Thanksgiving dinner. Super cute and great to transition you well into the spring time.
You Might Also Like // 3 Easy & Cute Plus-Size Outfits 
These 3 outfit looks are perfect for the upcoming holidays, especially Thanksgiving!
Click To Tweet
I hope you guys liked these 3 simple outfits. I'm not exactly sure what I'll be wearing just yet, but I'm sure it will be something from one of these looks. 
I'd love to know what you will be wearing this Thanksgiving? Share with me down below! 
2