Afraid to play with metallic and glitter? Don't be! This metallic eye look is a great look for a night out on the town! It's the perfect amount of glam!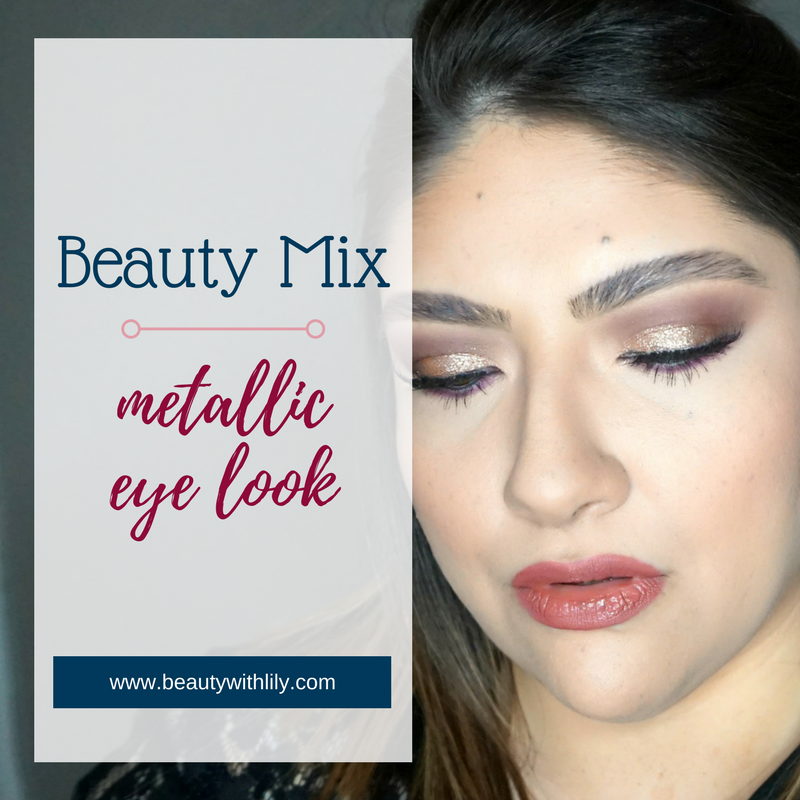 This post may contain affiliate links. Meaning that any clicks/purchases may result in a small commission to keeping Beauty With Lily running at no additional cost to you. 
It's finally Friday! Although I have a super busy weekend ahead, I'm ready for the weekend — mainly because my Christmas break is so close! For today's Beauty Mix, we are all playing with glitter! If you know me, I don't play around with glitter often, I have hooded eyelids, which makes it hard to wear glitter. It usually ends up smearing all over the place and not easy to work with in general. But I went out of my comfort zone and created this look. 
Please don't forget to visit the other girls — they are incredible and we each have different styles. I'm sure you will find some great inspiration from them! Jasmine from Jasmine Maria, Ashleigh from Ashleigh Rose and Kelsie from Kelsie Kristine.
Rock a glittery/metallic eye look for a fun night out, like this one!
Click To Tweet
Metallic Eye Look
Face Products 
Eye Products
Lip Products

Previous Beauty Mix Posts //
Jasmine's Look // Kelsie's Look // Ashleigh's Look 
Overall, I loved how the look turned out but I just wasn't thrilled with the pictures. Natural lighting is much better, but with my job and the sun setting so early, I have to work with studio lighting and I haven't quite nailed it down yet. But I hope you enjoyed this look! 
Are you into wearing glittery eye looks? 
Pin The Image Below
0