An organized and welcoming home office is a much needed space to get some work done. I've rounded up a few affordable home office finds to achieve the perfect home office.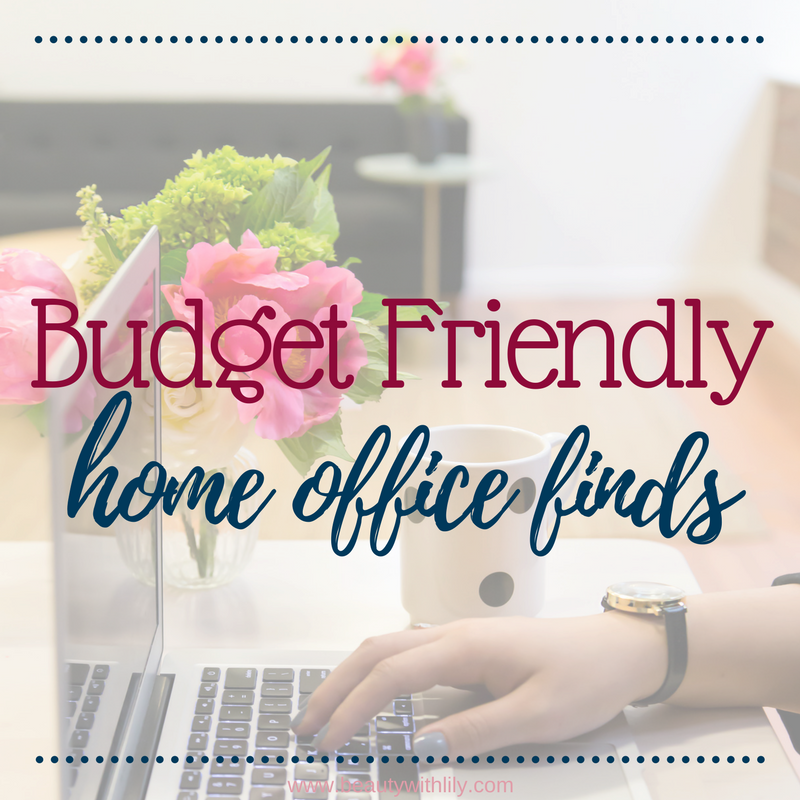 This post may contain affiliate links. Meaning that any clicks/purchases may result in a small commission to keeping Beauty With Lily running at no additional cost to you. 
Happy Friday friends!! This week has been rough — I went back to work after 2 weeks off, so it's been hard trying to get back into the groove of things. Anyway, over my 2 week break, I was able to finally get my home office together in one of the spare bedrooms. It's definitely not my dream office, yet, but slowly but surely we'll get there. Right now it's serving as my home office and as my filming room, so it houses a ton of stuff but it is missing some decorative pieces. And since we like to keep things budget friendly on BWL, I've rounded up a few affordable home office finds. 
Affordable Home Office Finds
Organization is quite important in a home office, so this acrylic file folder organizer is perfect to have out on display with these cute file folders. Something else that can help you stay organized and clutter free is this adorable paper clip holder, my paper clips tend to end up at the bottom of drawers all the time. Finally, to help keep you even more organized and tidy, this desk organizer set is not only pretty to look at, but also functional. 
As far as desk decor, a pretty desk lamp would be functional for working late nights and a desk calendar would also make a great addition — this wooden block calendar is under $20. And if you are keen to having pictures displayed on your desk, this picture frame not only holds your picture but it also makes a great decor piece.
A couple of more accent pieces, this gorgeous navy and gold tray — you could set it on an ottoman and stack some coffee table books, add a candle — so cute, right. Lastly, you can't go wrong with a cute tape dispenser, stapler and pens.
You Might Also Like // Affordable Farmhouse Decor

Looking to spruce up your home office space on a budget? These affordable home office finds will probably do the trick!
Click To Tweet
You can definitely notice a theme and color palette here, can't you? Recently, I've been obsessed with navy, blush and burgundy — those are actually my colors for the blog and I think it would be really neat to incorporate that into my office space as well, or is kinda lame? Haha! 
Do you have a home office space? What's your style? 
44