Once the seasons change, I tend to switch up a lot of my beauty products too, so today I'm sharing my spring beauty must haves. Ranging from high-end to drugstore products. 
This post may contain affiliate links. Meaning that any clicks/purchases may result in a small commission to keeping Beauty With Lily running at no additional cost to you. 
Oh man did this weekend fly by! I was extremely busy all weekend so I barely got any relaxation in and to top it off I took a really nasty fall yesterday so I'm hurting pretty bad. I'm so clumsy and constantly hurting myself, please tell me I'm not alone!? Anyway, enough chit chat, let's get to the good stuff! 
Spring Beauty Must Haves
I was recently talking to my hairstylist about having trouble finding a good dry shampoo that didn't leave a white cast or build up — she recommend the IGK Jet Lag Invisible Dry Shampoo and boy have I loved it! It's lightweight, doesn't leave a white cast and it smells good too! It's defintiely pricey but oh so worth it, oh and it's cruelty-free too! A recent skincare favorite (and must have for oily skin) is the Bioré Self Heating One Minute Mask, it's so good! You can find my review of this product here!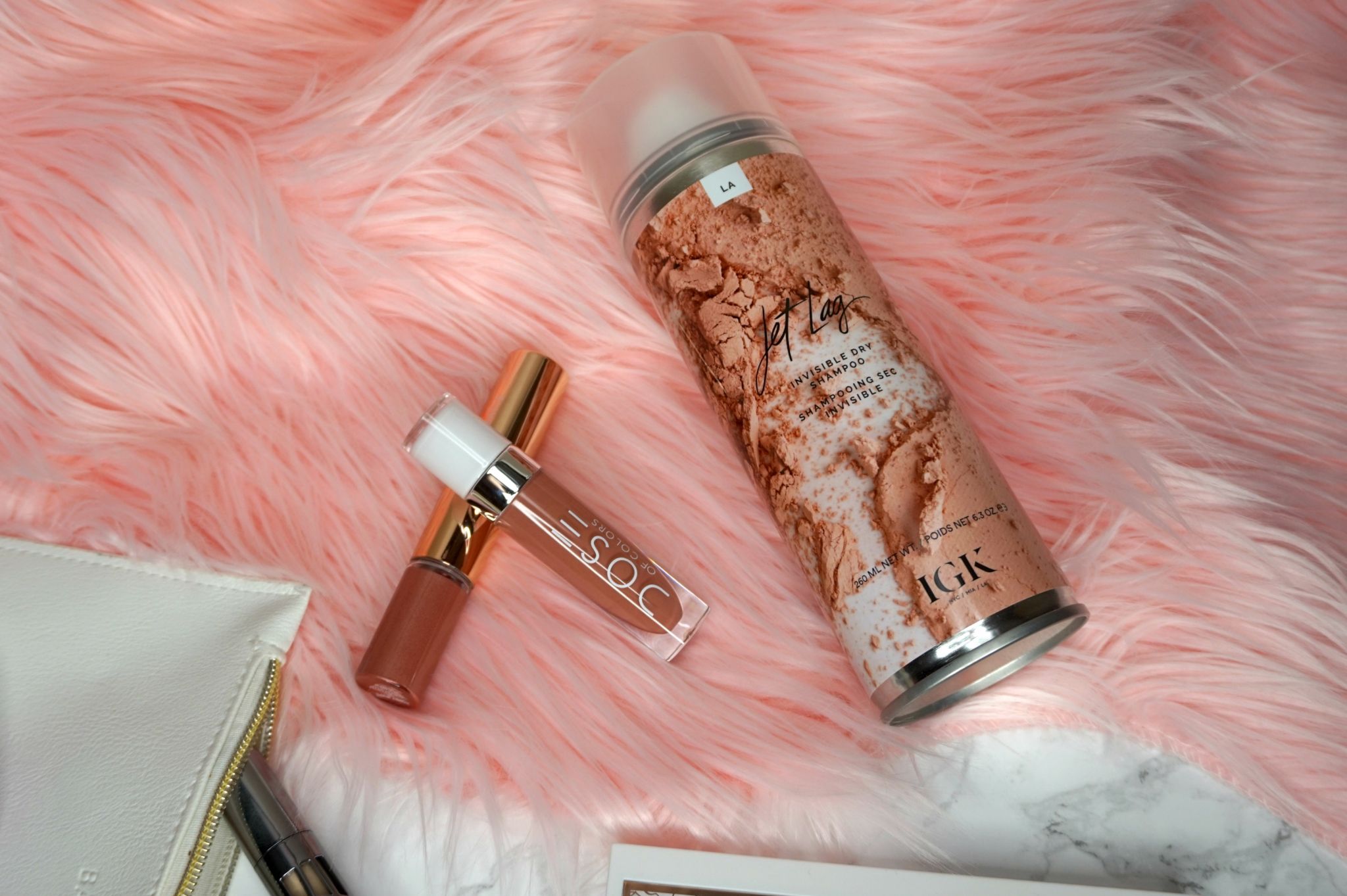 Now onto makeup products. A good foundation for normal to oily skin is the Maybelline Super Stay Foundation, it's definitely full coverage with a demi-matte finish. I find it to be lightweight but keep in mind that it does oxidize. Speaking of full coverage products, if you are looking for a good, heavy duty concealer the Urban Decay All-Nighter Full Coverage Concealer gets the job done. If you're a fan of Tarte's Shape Tape and want a bit more coverage and don't mind something a bit more heavy, you'll love this. I recently mentioned this Flower Beauty Lift & Sculpt Contouring Palette and I have been obsessed with it — the powders are so buttery smooth and very pigmented. I think my favorite product is the highlighting powder for sure, it's perfect for this time of year.
Moving on to two lip products that I think everyone needs to own, especially nude-lip lovers. The first is the Flower Beauty Mix N Matte Lip Duo in Honey Nude and the Dose Of Colors Lip Gloss in On Repeat they are great alone and together! Lastly, a good pop of color is perfect on the nails, come springtime — the Essie Polish in Splash of Grenadine can take you from spring to summer — perfect for a colorful pedi!
You Might Also Like // Affordable Spring Shoes
Shop These Spring Beauty Must Haves

Needing to revamp your spring beauty bag? These 8 products are spring staples for every lady!
Click To Tweet
So that's a wrap ladies — these have been a few of my current must haves for this time of year. These products have been on repeat for the last month or so — that's how you know they are well loved. 
Do you switch up your beauty products once the seasons change? What is current must have? 
Found this helpful? Pin the image below!
0