Spring fashion can easily transition you into summer, so consider adding these must have spring accessories into your closet soon for a pop of color.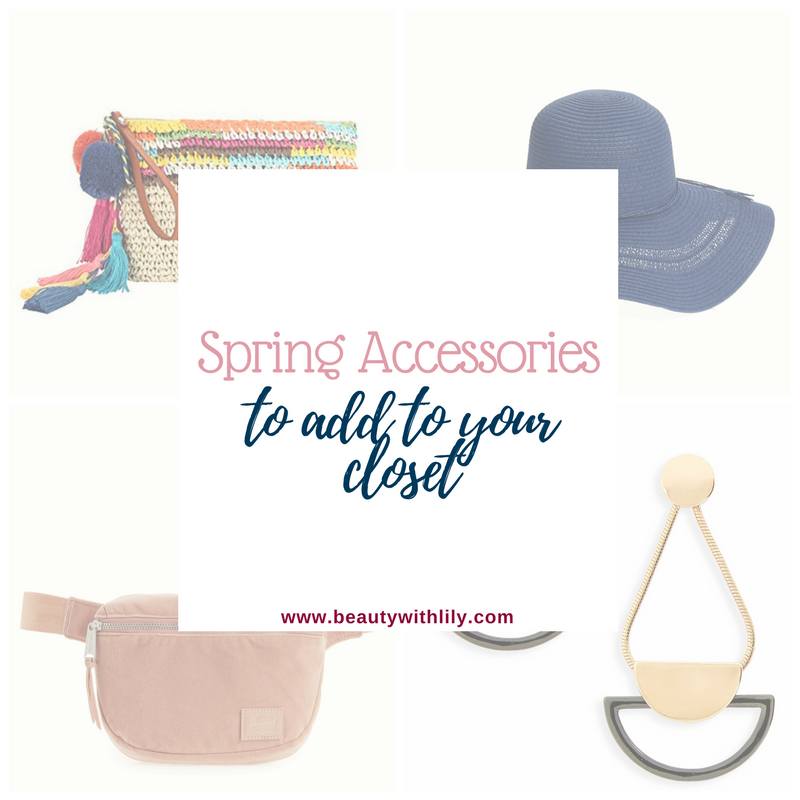 This post may contain affiliate links. Meaning that any clicks/purchases may result in a small commission to keeping Beauty With Lily running at no additional cost to you. 
Accessories are some of the most fun fashion pieces to shop for, especially during the warmer months. You can find so many unique, bold pieces to complete any outfit. And that's what today's post is all about, must have spring accessories to add to your closet now. 
Must Have Spring Accessories
Straw/Beach Bags
Straw bags are huge this season, they can easily be worn in a casual way to a beach getaway. In the collage above, I also include a few beach bags that aren't straw bags because they are so darn cute. 
Purchase These Straw Bags

Straw Hats
I love me a good hat, so this time of year is perfect to snag a few straw hats. I love the floppy look and nowadays they are cuter and cuter — you can find them with pom-poms and even writing!
Purchase These Straw Hats

Belt Bags
Can y'all believe the fanny pack is back?! Okay…they're calling them belt bags…but this totally looks like a fancier fanny pack, right??

Sculptural Earrings
Think sleek and geometric patterns. This style of earrings are much more modern and edgy.

You Might Also Like // Splurge vs Save | Spring Edition
Add some of these fun accessories into your closet this season that will transition your right into summertime!
Click To Tweet
Now that I've shared a ton of fun pieces, are you eyeing anything I've shared? It's so fun to add fun and vibrant pieces to any outfit, it can easily dress a casual outfit up. 
What accessories have you purchased this season? Any must have spring accessories you're eyeing? 
2