It's the beginning of a new month and it's time to share what I was currently loving! Everything from beauty to fashion — all products you should try this summer!
This post may contain affiliate links. Meaning that any clicks/purchases may result in a small commission to keeping Beauty With Lily running at no additional cost to you. 
I can't believe we are starting off July already — it's so cliche, I know, but seriously — how does time go by so fast!? June was a bit of a whirlwind for me. I was super busy, made some big changes and it's already JULY! Anywho, let's get on to what I have been currently loving!
Currently Loving
I was in need of a new mirror to do my makeup and I was really leaning towards the $200 Simplehuman 8″ Sensor Mirror — but I was a bit iffy about the price. My mom ended up purchasing one and I thought I would test her's out before making the plunge. I loved the lighting, it is pretty amazing, and I really liked the sensor part too. But after testing the Conair LED Mirror, I couldn't justify the price difference. They are not identical, but since I already have a ring light, I felt okay going for the $99 mirror instead. And I used the 20% off coupon from Ulta — so it was a steal! It's sleek and works wonders when I'm trimming my brows and such. 
IT Cosmetics recently sent me a few PR packages that were to die for! Tons of brushes and makeup goodies. A few of my most reached for products are the Bye Bye Pores Bronzer, the Heavenly Luxe Complexion Perfection Brush #7, the Heavenly Luxe Angled Blush Brush, and the Superstar Flawless Foundation Brush (which is limited edition at ULTA through the month of July.) The bronzer is so smooth and perfect for this time of year — for a nice subtle bronzer, the angled blush brush is good — but I do prefer to use it for blush instead. Now the #7 brush is AH-mazing! I like to use the small side to blend out my concealer and then with the bigger side, I apply powder to my undereye area. Such a good brush, y'all! The Superstar brush is also pretty amazing! You'd think that the star shape might make it a bit hard to work with, but actually the little corners reach to every single corner of your face.
Moving on to a fragrance I've been obsessed with this season, At The Beach from Bath and Body Works is like a walk on the beach but BETTER! It has a nice scent of coconut, bergamot waters, and a couple others that make a perfect concoction! I was recently decluttering a ton of my samples and came a cross this little gem from Caudalie. It's their Resveratrol Lift Hyaluronic Acid Eye Lifting Balm, and oh my goodness…y'all…it's the best eye balm EVER! I am definitely going to splurge and purchase the full-size. I wake up the next morning with the softest undereye area EVER! Now for my go-to earrings lately, I've been loving the SUGARFIX by BaubleBar Gold Coin Drop Earrings. They are subtle but still glam enough to make a statement. And they are only $9.99!!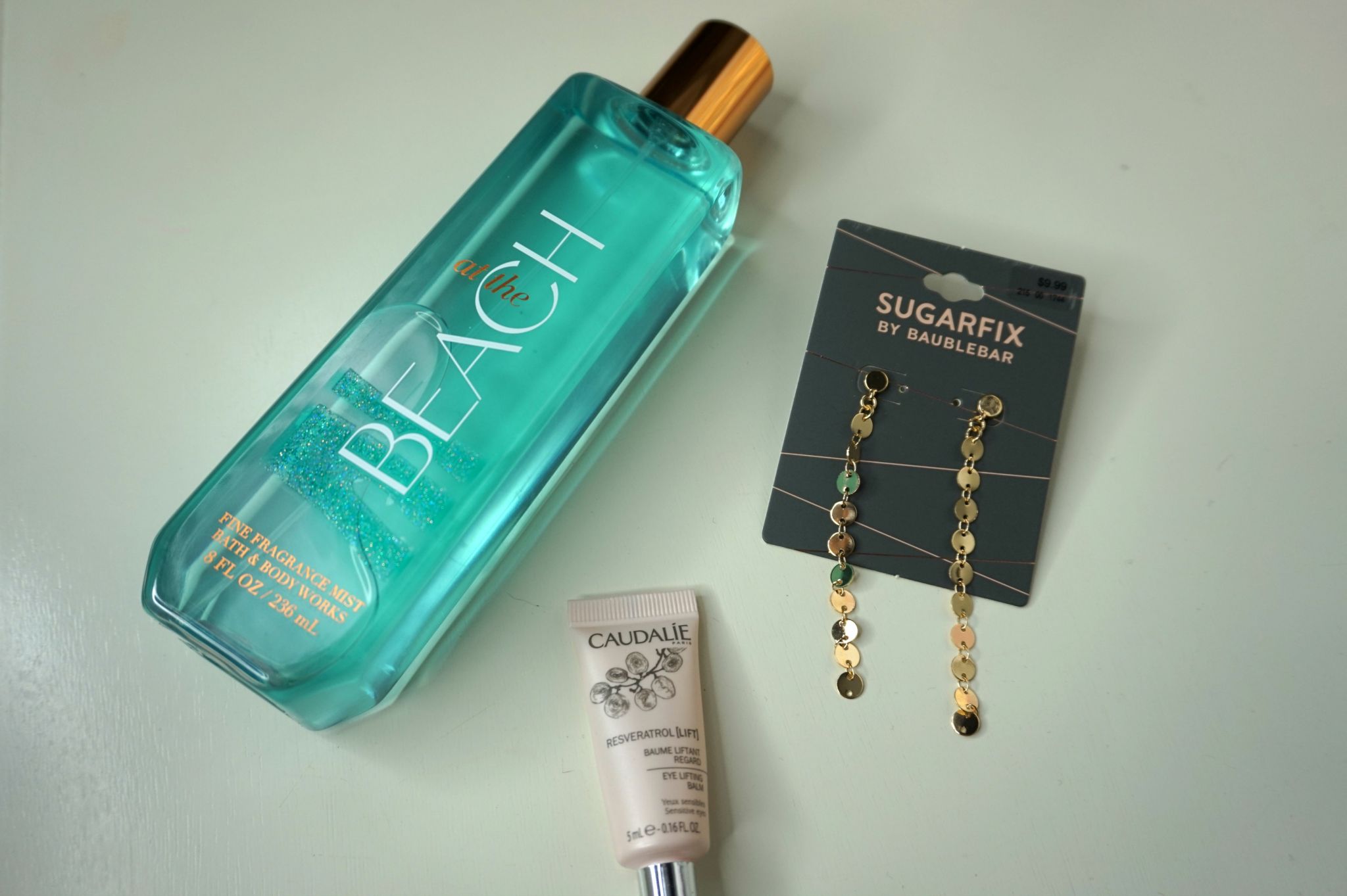 Lastly, two pairs of shoes I've been obsessed with — and they are both from Target!! These rose gold Mad Love Sandals are SO comfy and they kinda look like Birks! And these A New Day Embellished Slide Sandals, go with just about any outfit. I get SO many compliments on them too!
You Might Also Like // New At Nordstrom
Shop My Current Favorites Below

Looking to try some new products? Check out these 10 products (fashion + beauty) to try this summer!
Click To Tweet
Now…it's time for a fabulous giveaway!
I've teamed up with an amazing group of bloggers
to give YOU a chance to win:
a $1,000 Nordstrom Gift Card, just in time to shop the Anniversary Sale!
Simply enter below by completing the rafflecopter.
You'll receive one entry per completion.
This giveaway is open to the U.S. and Canada only and runs until 7/9.
Winner will be announced here. Good Luck!
Void where prohibited.
By entering the giveaway you acknowledge that you are agreeing to complete each task,
which involves following, liking and subscribing to newsletter's.
Don't forget to enter this fabulous giveaway! The Nordstrom Anniversary Sale is right around the corner and this cash would be perfect for that!! Good luck to all!
Have you tried any of my current favorites? What were you loving last month? 

Liked this post? Then pin the image below!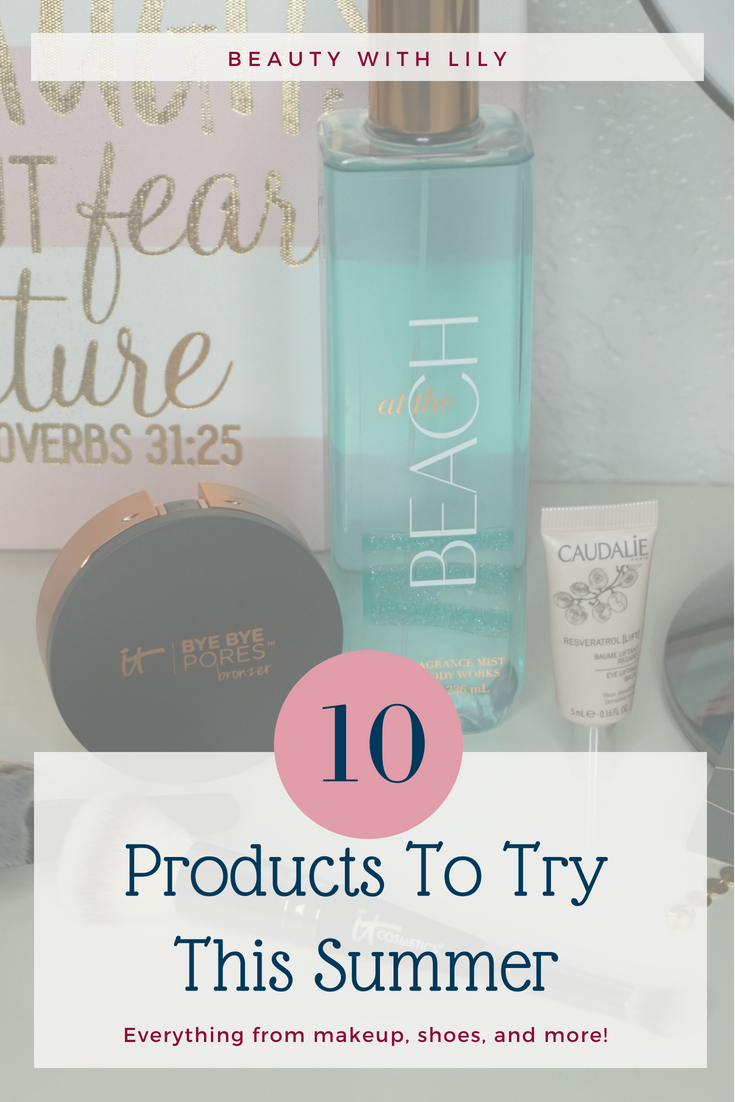 0