Ever wonder how some bloggers spend their weekends? No, it's not always spent at events or shopping. Check out the day in the life of a blogger!  
I received compensation from Aleve to write this post. All opinions are entirely my own. #NeverBackDown #Aleve #CollectiveBias #Advertisement
This post may contain affiliate links. Meaning that any clicks/purchases may result in a small commission to keeping Beauty With Lily running at no additional cost to you.
Hi friends! Today's blog post is a little different. I'm sharing a behind the scenes look into a busy blog work weekend — not all bloggers have cool events to attend, or spend all day shopping. I'm showing just how much work goes into blogging, the stress and even the aches and pains that come along with it. I'll be sharing what has been helping my aches and pains, Aleve Back & Muscle Pain — Aleve's personality is compassionate yet courageous, they know we want to get the most out of our busy days, but pain can sometimes get in the way. It can provide all-day pain relief that can help stop the pain, but not you! Only Aleve offers up to 12 hours of pain relief in just 1 pill*. All Day Strong, All Day long. *Among leading OTC brands,. based on minimum labelled dosing. Use as directed.
Day In The Life
My weekend mornings start at whatever time our little four-legged buddy, Charlie, wakes up — which is normally before 8:30. I rarely get to sleep in, but there are times, when my husband doesn't work, that he will get up and lets me sleep in. Once Charlie is up, he's ready to go! We go out, feed him and play with him for a bit — he's got a ton of energy. If I'm handling Charlie, my husband is usually getting started with breakfast…which is nice, since I do most of the cooking during the week. Once I've had my coffee and breakfast, I'm ready to get my day started. Normally, I start by making a to-do list for the day — most of the time it consists of taking pictures for future blog posts, editing, beginning blog posts, scheduling social media content, and getting to emails I didn't get to during the week.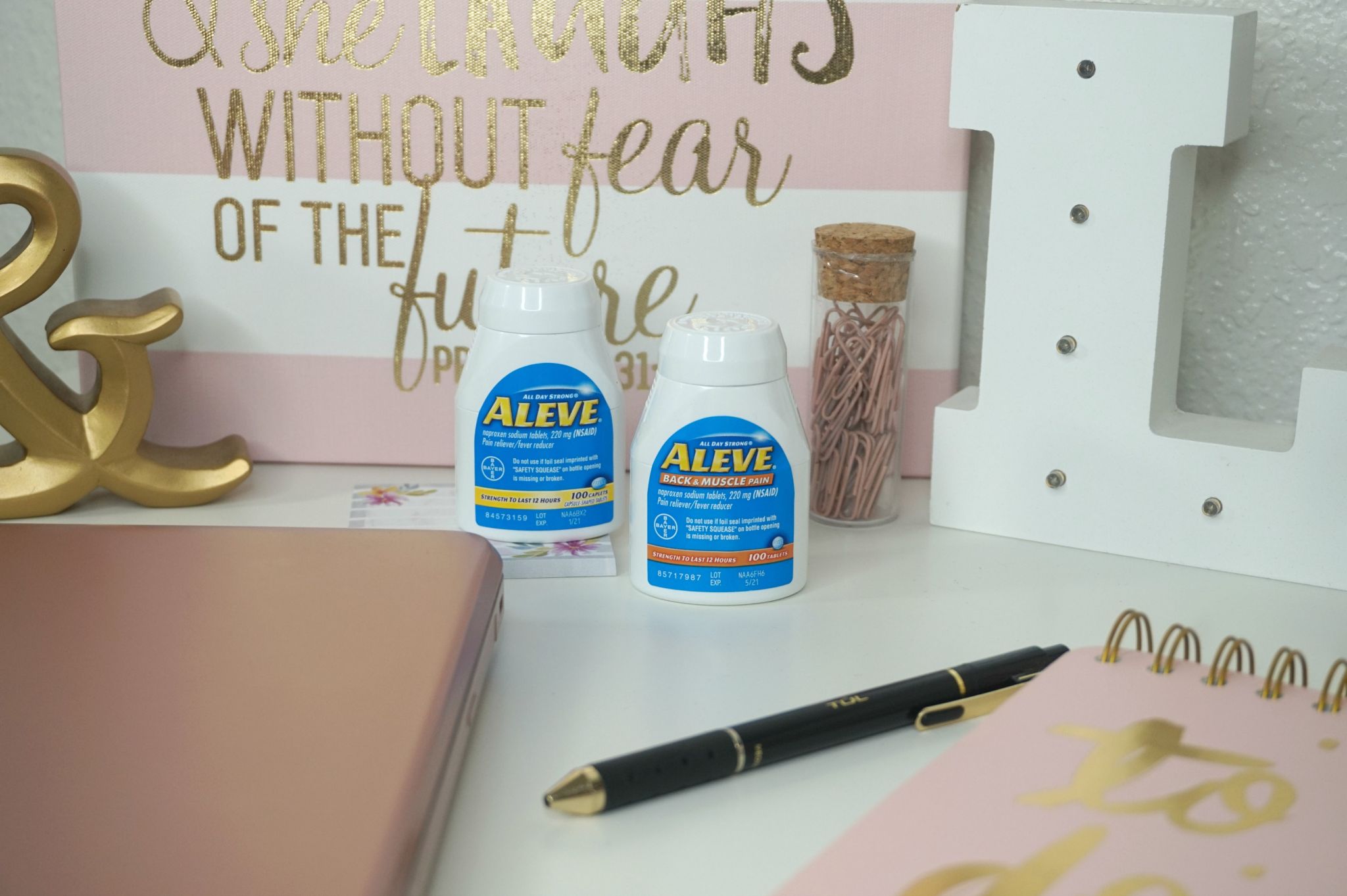 As most of you know, I am also a real estate agent, so I try to sneak in some of that in as well. Some weekends I have open houses scheduled or showings with clients. This particular weekend, was nothing but blog work. I took out all of my lights, props and products to shoot. Taking pictures for the blog can take anywhere from 30 minutes to 2 hours. It just depends — on this day, it took me 2 hours, since I had a few products to shoot. It's actually more work than what it sounds like, it's a lot of bending down, moving 3 light stands around, moving around to get good angles, lifting heavy boxes and so on. It can definitely cause some minor back pain…when that occurs, I like to keep Aleve Back & Muscle Pain handy. I try to get as much done as possible in one day, so I can't let back and muscle pain sideline me. Thankfully Aleve Back & Muscle Pain offers all day pain relief, so I can get all of my to-do's done and overcome the pain. I also like to keep a small pill box in my wristlet in case I get some pain while I'm out and about on weekdays.
Once I've finished taking all the pictures, I will put up all of the mess. It can get quite messy with so many cords, props and such out. I'll then move on to editing all of the pictures, creating folders on my laptop and cleaning out older folders too. I hate having my files cluttered. Lunch time has normally already passed, I normally just eat a PB&J or snack on some crackers and cheese while taking pictures. After all that has been completed, I'll take a little break to visit with my husband and play with Charlie, I don't like neglecting them too much.
Then it's time to move on to getting blog posts ready for the week ahead. It's a lot of typing, finding the correct links, editing, creating images, etc. I typically get 3 posts out in one week, so I like to have Monday's post scheduled and by Sunday night, I like to have Wednesday's post 75% completed and started on Friday's post. Right now I'm participating in a makeup series that goes up every Friday, so after showering, I'll start doing my makeup for that post. This also includes more picture taking and editing.
You Might Also Like // Productivity Tips For Girl Bosses
Ever wonder how some bloggers spend their weekends? No, it's not always spent at events or shopping. Check out the day in the life of a blogger! #ad #NeverBackDown #Aleve #cbias @walmart Click To Tweet

To claim rebate: purchase two (2) Aleve products (80ct or larger) at any retailer between 9/15/18-10/31/18 on a single receipt, and text ALEVE to 555888 to receive submission instructions. Rebate: one (1) $5 Walmart eGift Card. Rebate offer valid 9/15/18-10/31/18, while supplies last. Limit one rebate per person. Allow 6-8 weeks for delivery. eGift Card subject to printed terms. Reply STOP to unsubscribe or HELP for help. 4 messages per month. Msg & Data rates may apply.

NO PURCHASE NECESSARY. Sweepstakes starts on 9/15/18 and ends 10/31/18, Legal residents of the 50 US/DC 18+. Void where prohibited. See Official Rules

https://neverbackdownrules.pgtb.me/6SMMd8

. Visit

https://neverbackdown.pgtb.me/GRxbhS

to enter. Legal residents of 50 US/DC only, 18 years of age or older.

Share your #NeverBackDown moment with Aleve, for a chance to win a trip to meet Kyle Irving.
By the end of the day I'm tired of staring at a computer all day, looking into a camera lens and sitting in a chair for a long period of time. I'm so glad my husband is so understanding of my love for blogging and supports me 100%! After a long day of work, we like to go out for dinner or a movie and spend some quality time together. Once Sunday rolls around, I try to get all of my cleaning and laundry done, finish any blog work I may have not gotten too and try to find some time to relax a bit. It's a lot of work, but I love it.
What is your usual weekend like? Have you tried Aleve Back & Muscle Pain?
Enjoyed this post? Then please share the pin below and with friends and/or family!
0