Ever wondered about certain beauty products and haven't found solid reviews? These are a few of the latest disappointing beauty products that did not work.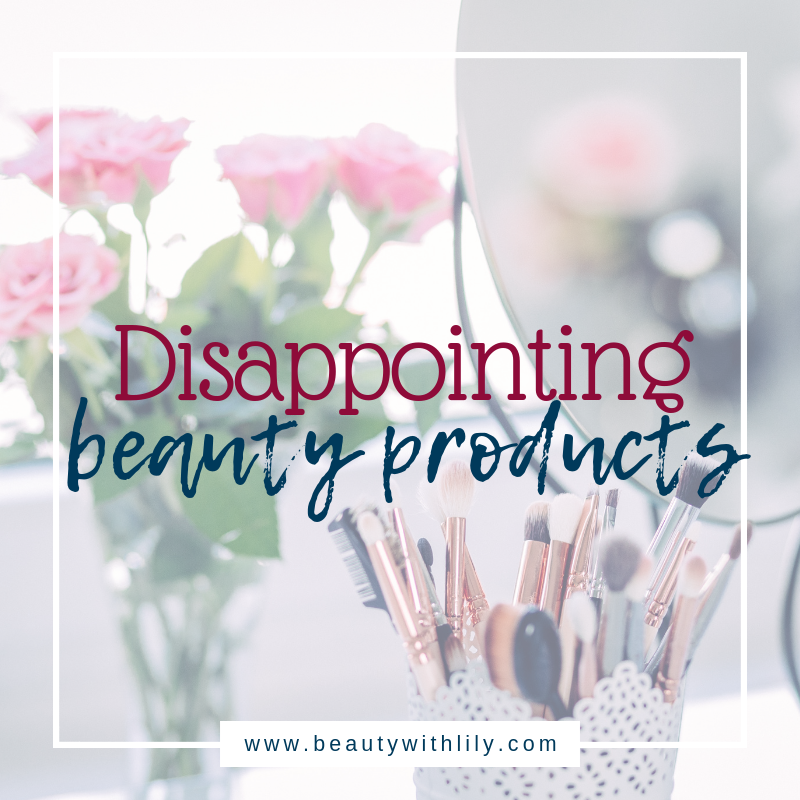 This post may contain affiliate links. Meaning that any clicks/purchases may result in a small commission to keeping Beauty With Lily running at no additional cost to you. 
As most of y'all know, I try a lot of makeup and beauty products and I love a lot of it — that's normally what I share with y'all too. And I'm not one to bash beauty brands or products, but sometimes some products just don't work out for us. There are disappointing beauty products out there and I thought I'd share some with y'all today.
This by no means is bashing the brands, I've even linked and talked about other products they make that I love. This is just purely informational.
Disappointing Beauty Products
I've tried many concealers, especially since I have terrible dark circles, so I like to give most a try. After hearing a few other bloggers rave about the L'Oreal True Match Super Blendable Concealer, I thought I'd give it a try. The coverage was super light and I also found it to be too thin (watery) so it was hard to try to build up. I can't think of anyone that I'd recommend this too — a BB or CC cream would work best for someone with minimal imperfections (who was looking for minimal spot coverage, instead of foundation) over this. 
I've been a huge fan of the original Beauty Blender and the Real Techniques Miracle Complexion Sponge for years now, but I like to try new products as they come out. When I saw the EcoTools Total Perfecting Sponge I thought, great…I bet this will be awesome! I already love a few of their brushes, but unfortunately this sponge isn't for me. It blends well, it doubles in size, it's the fact that it rips so easily! I wash my sponges before every use, so I found that this one was way too sensitive and didn't take the washing well. A sponge from the other 2 brands I mentioned typically last me well over a month, probably 2. The EcoTools sponge lasted me 2 weeks! Just 2 weeks!
Another sponge I was NOT a fan of was the Real Techniques Dual-Ended Expert Sponge. I was nearing the end of my regular RT Sponge and needed another, but my Ulta was all out! So I decided to grab this one, the orange side is to apply foundation like usual and the pink side is to help contour, etc. Not only did this sponge NOT double in size after wetting it, it was harder than a rock! It did not blend well and was super stiff. I'm not sure if I got a bad one or what, but it went right to the trash. Not worth it at all.
I'm a huge fan of the L'Oreal Infallible Pro-Matte Foundation, so I was all for trying the L'Oreal Infallible Total Cover Foundation, unfortunately it was not for me. I did not think it was weightless like they claim, it took a while to blend and it broke down on my skin in a funky way. I do have really oily skin though, so maybe this works better on more normal skin.
I'm sure we all love a good dry shampoo! And I'm a huge fan of the Drybar Detox Dry Shampoo, and decided to give the Drybar Detox Dry Shampoo For Brunettes a go. I figured it would be just as amazing as the original, but boy was that a huge NO! Every time I used it it left my hair feeling WORSE than it already did, it stained my hands and it was just messy to apply in general…it would get the brown dye everywhere. The deal breaker though was how my hair felt after applying it — it would feel dirtier and gritty. Ew! Just thinking about it makes my scalp itchy. I'd say skip this and get the original!
It's very rare that I don't like a lip products — but the Burt's Bees Tinted Lip Oils just weren't the greatest. They have almost no tint (I understand they are sheer, but these are almost invisible) they aren't moisturizing and are sticky! That's one thing I can't deal with when it comes to lip products…I hate sticky lip products.
You Might Also Like // The Best L'Oreal Makeup
Ever wondered about certain beauty products but haven't found solid reviews? Check out these disappointing beauty products before hitting the store!
Click To Tweet
As always, I hope you found this helpful and not a rant type of post. And if you happen to love any of these products mentioned, please don't take offense — not everything works for everyone, unfortunately. If you'd like to see more of this type of post, please let me know below! 
Have you tried any of these products? If so, what did you think?
Found this post helpful? Then, please pin the image above and share with you friends/family!
0