Ready to learn how to use a planner effectively and be productive? These tips will help you put that new planner to use and get organized.
Erin Condren gifted BWL these items. Thanks for supporting brands we stand behind.
This post may contain affiliate links. Meaning that any clicks/purchases may result in a small commission to keeping Beauty With Lily running at no additional cost to you. 
Happy New Year beauties! It's so hard to believe that we are officially in a new year — 2018 was so fast and I bet 2019 will be the same. I want to start off by thanking each of you for being Beauty With Lily readers. I started out doing this as a hobby and now it's become a passion of mine. So thank you for being so supportive and encouraging!
How To Use A Planner Effectively
Since it's a new year, it's time for a new planner! If you've been a reader of BWL for awhile now, then you know that I am a planner addict! So it's only right that I start off the new year with a planner related post. I'll be sharing a few of my tips on how I use a monthly planner to help keep all of my blog related things organized — don't worry, if you aren't a blogger, these tips will definitely benefit you too.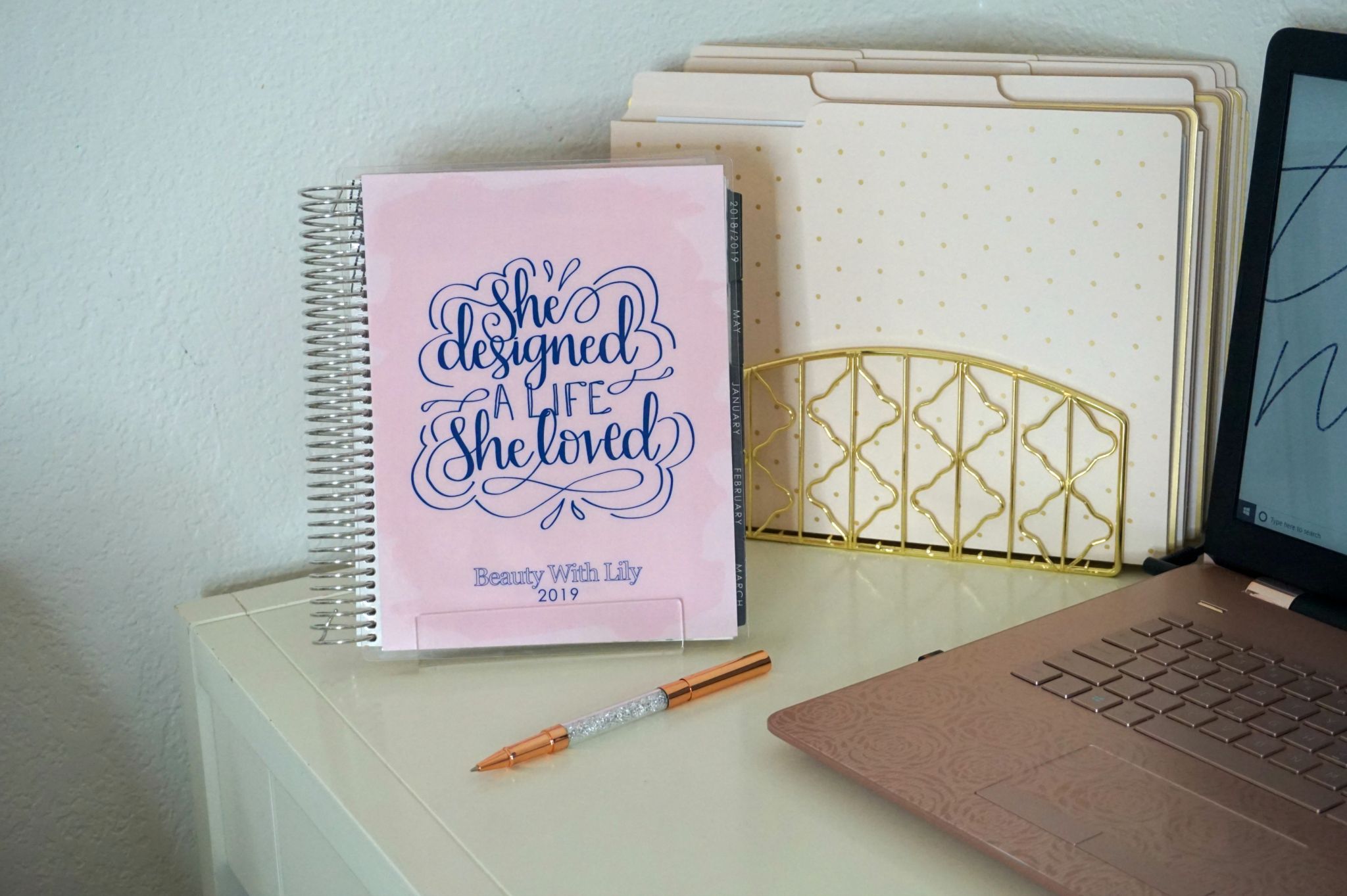 Find The Right Planner
It can be hard to find planner peace. I've used a variety of planners and after coming across Erin Condren planners, I knew they were the ones for me. She has a variety of planners, so I can choose and customize what I need. I suggest writing down what you NEED in a planner, along with a few wants. Once you've narrowed your list, start shopping. You can find planners all over the places, varying in different prices. Find what suits your lifestyle and needs. My current planner is the Deluxe Monthly Planner from Erin Condren. It has everything I need and want all in one!
[otw_shortcode_quote border_style="bordered"]The best parts of a planner and notebook, combined! This 2019 planner features a dated 12 month calendar and plenty of pages for taking notes!
– 12 Two-Page Monthly Calendar Spreads
– NEW Durable Tabs for Easy Organization
– NEW Add Extra Lined Note Pages (Up to 80!)
– Luxe or Interchangeable Cover Options
– Two Sizes & Color Schemes & Various Calendar Options[/otw_shortcode_quote]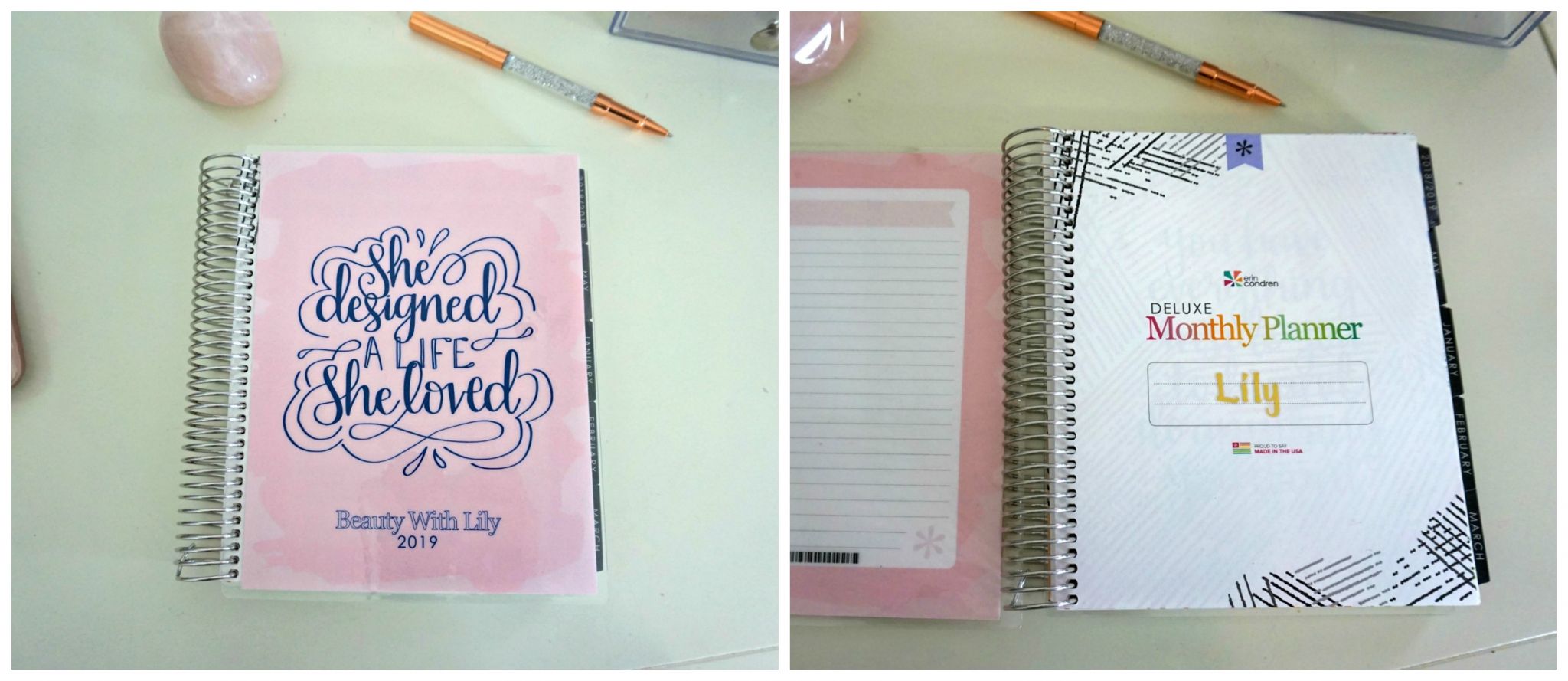 Utilize The Notes Section
Take advantage of ALL the extras your planner comes with. For instance, I use all of my notes pages for different things. I have a section where I keep track of my statistics, another for my monthly income and expenses, etc. Don't let those pages go to waste.
Write It ALL 

Down
If you know something is coming up, write it down. If there's a movie coming out that you want to go see, write it down. The easiest way to plan for something to actually happen, is by writing it on your planner. That way you avoid scheduling something else in it's place.
Check It Off
Now that you've written in all down, once it's been completed, check it off. There's a huge sense of accomplishment when something has been done and checked off — and it also keeps you on task.
Be Realistic
I'll be honest, I can get off track every now and then, but it throws me completely off. And it's a feeling I don't like. So don't be too hard on yourself if you can't get into the groove of things. Also, don't over-schedule yourself! Keep tasks to a minimum of 5-7 per day, depending on their work-load. You want to avoid getting frustrating and overwhelmed by the amount of things you have to get done in a day.
You Might Also Like // Planner Essentials
Ready to learn how to use a planner effectively and be productive? These tips will help you put that new planner to use and get organized. Click To Tweet
---
Shop The Post
---
Using your planner daily and effectively is key to accomplishing your goals and day-to-day tasks. I'd love to know how you use your planner and what your favorite planner is at the moment. Let's chat in the comments! 
Are you a planner addict? How do you use your planner?
Enjoyed this post? Please share it on social media and pin this post! I truly appreciate your support!
---
2019 is here and we are celebrating the New Year with a Target giveaway! One lucky winner will bring in the New Year with a Target shopping spree. Woo hoo!
HEARTS OF GOLD BLOG | PRETTY IN PINK MEGAN | STREET STYLE SQUAD | SO HEATHER
SINCERELY KATERINA | FROM THE FAMILY | SYLVIA JADE | RD'S OBSESSIONS
THE CONFUSED MILLENNIAL | L. AVENUE | CUP OF CHARISMA | SHE SHE SHOW
BRIANA ANDERSON | MICHELLE'S PAIGE | JEANS AND A TEACUP | I'M FIXIN' TO
THE STEELE MAIDEN | GLAM R ME | BIG HAIR AND FOODIE | TO THINE OWN STYLE BE TRUE
THE MIDDLE PAGE | LIFE OF ALLEY | TWO PEAS IN A PRADA | LEGALLEE BLONDE | A LILY LOVE AFFAIR
GLAMOROUS VERSATILITY | STREETS, BEATS AND EATS | THE LUSH LIST | BEAUTY WITH LILY
One lucky winner will get a $500 Target E-Gift Card. This giveaway is brought to you by the talented influencers you see above, be sure to check out their websites for some fun New Year's posts! Enter by performing the actions listed in the Rafflecopter below for a chance to win!
Make sure to do the actions in the Rafflecopter before marking they are done! Marking done doesn't automatically perform the action. Good luck! Winner will be announced in the Rafflecopter on this blog post.
One winner, giveaway runs from January 1, 2019 to January 15, 2019 (concludes at 11:59 PM on the last day). Open to the U.S. and Canada only. Void where prohibited. By entering you are agreeing that you are performing the actions in the Rafflecopter that you have marked as done. By entering you acknowledge that you are agreeing to the newsletter subscriptions and all other terms & conditions of the giveaway. More giveaway details can be read in the terms & conditions here. Winner will be announced within 14 days of the conclusion of the giveaway and entries will be verified by the hosts. Thanks for participating, I can't wait for you to get to know you more as you follow along!
1