Finding the perfect skincare products for your skin can be tough, but these winter skincare products are perfect for ALL skin types!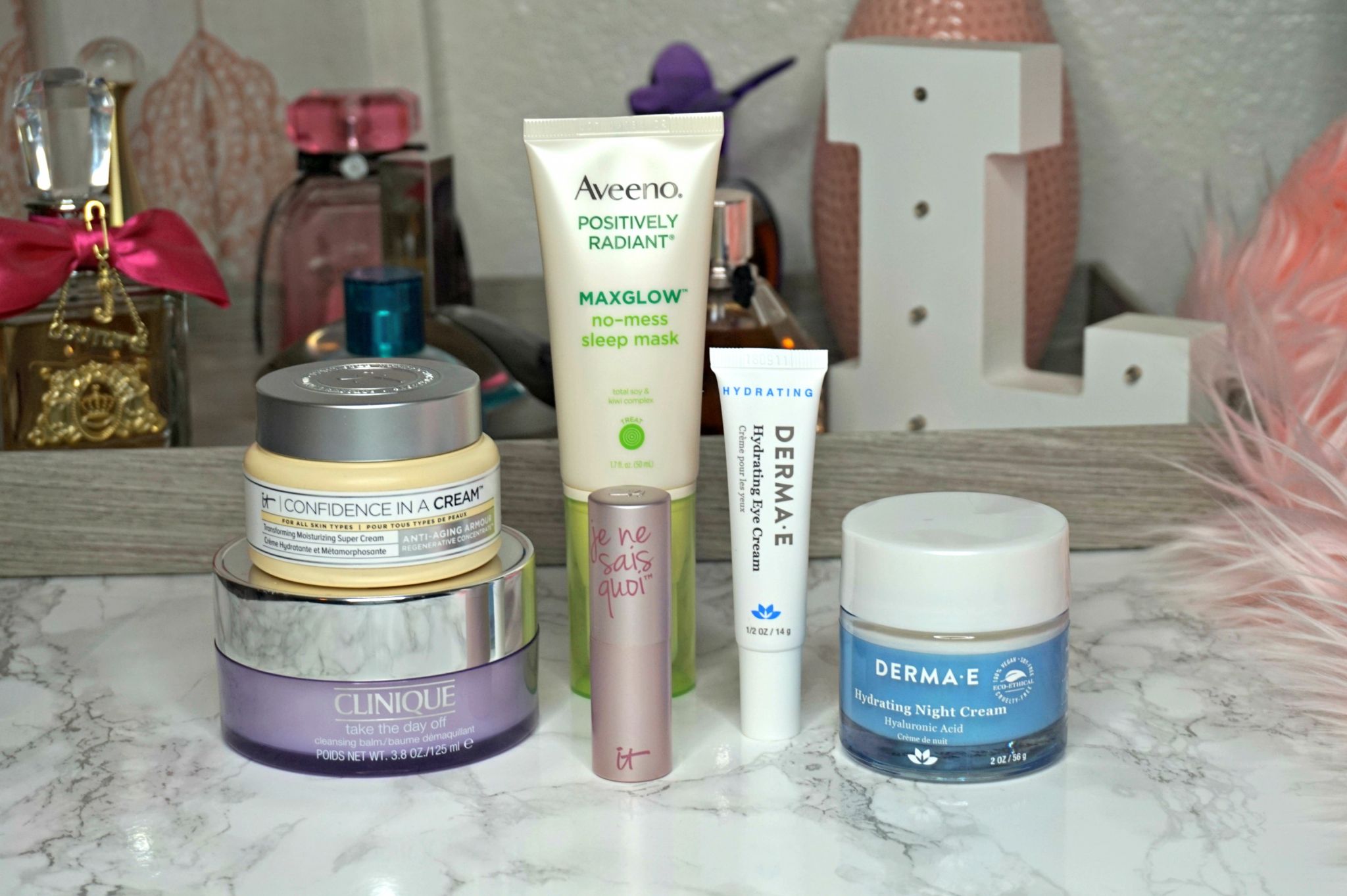 This post may contain affiliate links. Meaning that any clicks/purchases may result in a small commission to keeping Beauty With Lily running at no additional cost to you. 
Happy Friday! This week felt like the longest week EVER — so I'm definitely happy it's finally the weekend! Today's post is all about skincare — products that work best during the winter months AND that are great for ALL skin types! Let's get into it.
Winter Skincare Products
Clinique Take The Day Off Cleansing Balm – This is my go-to face wash for nighttime, once the colder months begin. As you can see, I have a brand new one I'll be digging into, this is my 3rd time repurchasing this. It's a little strange using this at first, since it's a solid, but once you start working into your skin, it dissolves into a balm and removes ALL of your makeup. Leaving your skin feeling supple and clean! 
IT Cosmetics Je Ne Sais Quoi Lip Treatment – If you're looking for something deeply hydrating that still gives you a hint of the perfect pink, THIS is a must! This lip treatment has a variety of essential butters and oils, hyaluronic filling spheres and antioxidants. It's basically amazing!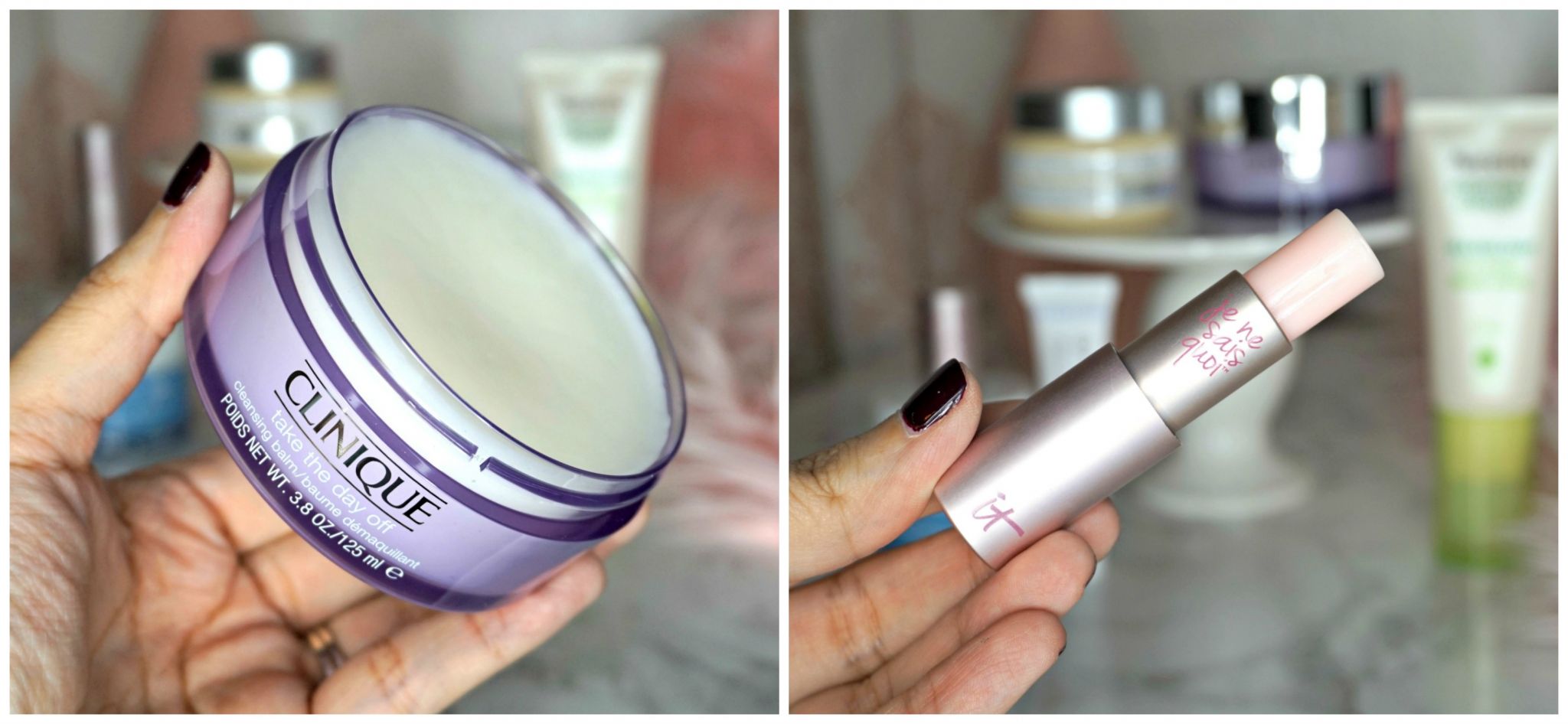 Derma E Hydrating Night Cream – This may sound a bit crazy, but I don't use this night cream every night — I only use it on days I've worn makeup. Since I have oily skin, I don't feel like I need to use this every day. Although it's very hydrating, it's not super thick and it feels lightweight. 
Derma E Hydrating Eye Cream – I've tried several eye creams and this one is one I have been loving for the colder months. It's very similar to the night cream, it has several hydrating vitamins along with Hyaluronic Acid (HA), also known as nature's moisture magnet. 
IT Cosmetics Confidence in a Cream Moisturizing Super Cream – One of the many reasons why I love this cream, is because of the anti-aging benefits. I'm not getting any younger, so it's time to start adding in some anti-aging products. I strictly use this at night, or on days that I don't wear makeup. It even claims to reduce the look of pores, uneven texture and discoloration over time. I just finished my first jar of this and I loved it so much, I repurchased it when it went on sale. 
Aveeno MaxGlow No Mess Sleep Mask – I have a full review of this mask here — but y'all, this is SO good! I love that it has a mess-free applicator, super easy to apply. This overnight hydrating face mask attracts and locks in hydration for a more radiant, dewy complexion. 
You Might Also Like // Tips For Healthy Winter Skin
---

---
Finding the perfect skincare products for your skin can be tough, but these winter skincare products are perfect for ALL skin types!
Click To Tweet
There you have it, a few of my favorite winter skincare products. I'd love to know if you change up your skincare routine seasonally, if so, share some of your favorite products below!
What are some of your favorite skincare products?
Enjoyed this post? Please share it on social media and pin this post! I truly appreciate your support!
0