Ever wonder what others carry in their makeup bags? Today I'm sharing a peek into what some of my travel makeup bag essentials are!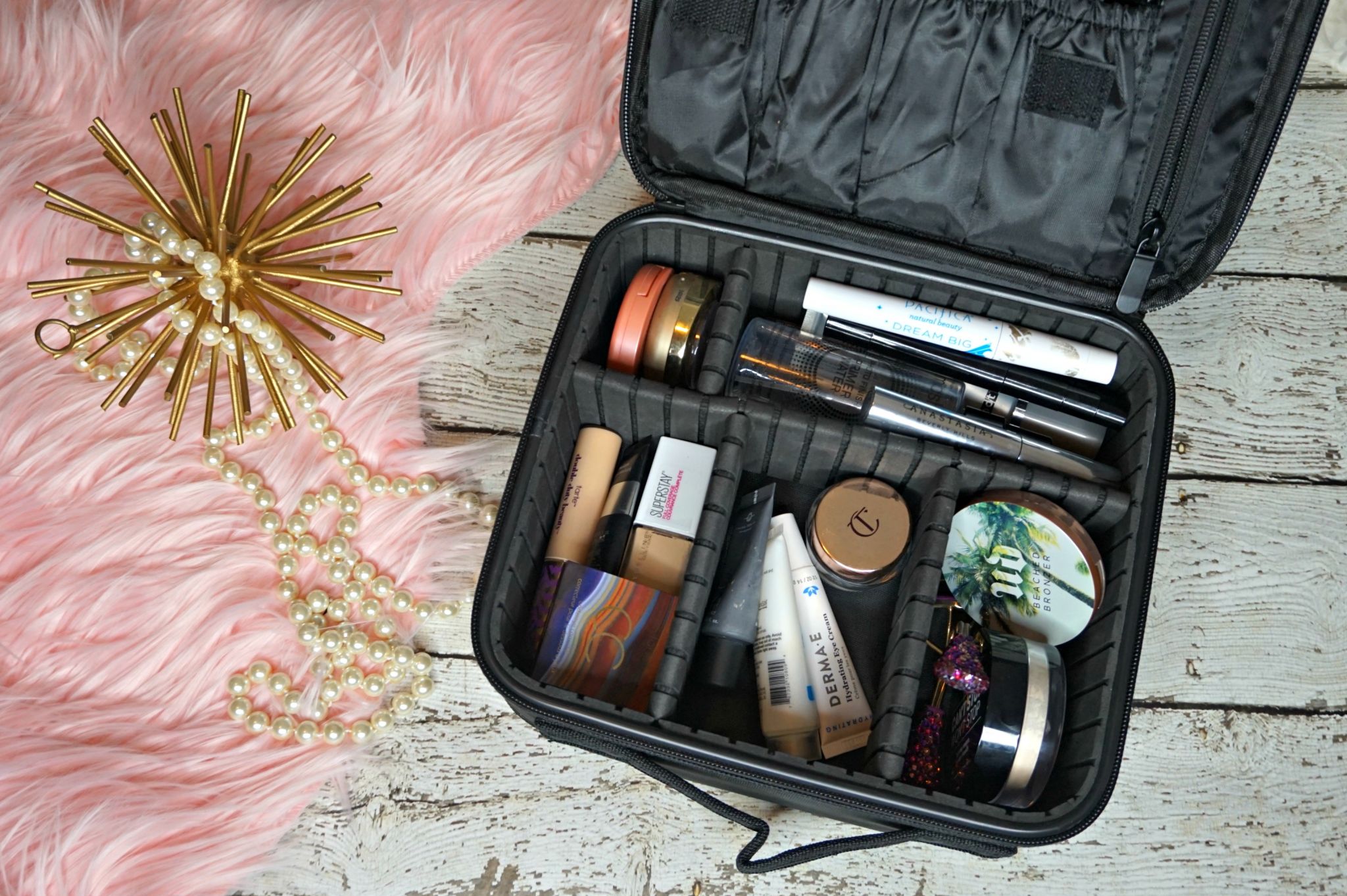 This post may contain affiliate links. Meaning that any clicks/purchases may result in a small commission to keeping Beauty With Lily running at no additional cost to you. 
Hi friends! Thanks to a busy work season, I had to take a couple of days off from the blog — and let me tell you, it throws me off! But I hope to be back in full swing for the rest of the month. Today I'm sharing a quick look into my travel makeup bag!
Travel Makeup Bag Essentials
I don't know if I have mentioned how many trips I make during the week to a nearby city for my real estate job on the blog, but it's A LOT. So having my travel makeup bag stocked with my essentials and ready to go, is a must! I keep this just as it is pictured below, I do switch out blushes, bronzers and powders every now and then. I was using a different makeup bag, but recently purchased this travel makeup bag and it's SO much better! I have the bigger version of this too for my freelance business, so I'm loving this smaller travel friendly version.
The compartments on the main storage can move around to just what you need, which is perfect for all types of products. In the first lower left side slot I keep my foundation, under eye corrector, a skin colored concealer, along with my under eye concealer. The next slot holds my extra mattifying primer, another mattifying primer, under eye cream, and a moisturizer. The last compartment houses a loose powder, bronzer and my eyelash curler. 
The top left corner hold 2 different blushes, a matte blush and a shimmery blush — both are similar in color but different finishes. The longer slot holds a spray primer, 2 different mascaras, a pore minimizing primer, eyebrow gel, eyebrow pencil, black felt tip liner, and a brown gel liner.
I always carry my blending sponge, along with these Real Technique brushes. They came in this set and it's perfect for traveling! I also carry a pair of scissors, small brush for cleaning around my brows, a spoolie and an eyebrow razor. 
You Might Also Like // Trend To Try — Living Coral
---

---
Ever wonder what others carry in their makeup bags? Today I'm sharing a peek into what some of my travel makeup bag essentials are! Click To Tweet
As you can see, I don't carry eyeshadows or highlighters, and that's because I try to keep it as low maintenance as possible. If I'm going to be gone for awhile, then I'll toss in a small palette, along with a few eyeshadow brushes. For lip products, I normally stick to what I have in my bag, which changes often. 
What are some of your travel makeup bag essentials?
Enjoyed this post? Please share it on social media and pin this post! I truly appreciate your support!
1