We all KNOW that taking care of our skin is a must, but it can be overwhelming. Take a look at these skincare mistakes you might be making & how to fix them! 
This post may contain affiliate links. Meaning that any clicks/purchases may result in a small commission to keeping Beauty With Lily running at no additional cost to you. 
Happy Wednesday babes! I briefly mentioned recently that my husband had been away on work and he's finally back — not only was I glad to have him home, so was Charlie. He doesn't leave his side. LOL! I also got word yesterday, that I made the top 10 list of most sales for the month of February in my brokerage! I had a busy February for sure, but I didn't think I'd make that list. I work for a HUGE brokerage, with so many successful real estate agents, so it was quite a surprise. Okay, enough of my life…let's get on with today's post! 
Skincare Mistakes You Might Be Making
We all know that sleeping with makeup is a HUGE no, washing our face daily is a must and picking at your face is a definite no too. So, I'll be sharing a few other no-no's that you may not know you are doing.
Not Exfoliating, or Over Exfoliating
Exfoliating is essential to remove the layer of dead skin, but over doing it is actually damaging to our skin. Stick to exfoliating 2-3 times a week.
Using Dirty Makeup Brushes
I can fall into "lazy-girl status" and not wash my brushes and I can always tell when my skin starts to hate me for it. You want to make sure no dirt or bacteria builds up — so wash those brushes!
Not Applying Products in the Correct Order
If you don't apply your skincare products in the correct order, they won't be absorbed properly. One thing to keep in mind is to apply products with a thinner consistency before applying thicker products.
Sleeping on Dirty Sheets
Yep, dirty sheets can really hurt your skin. Nobody wants to roll around in sweat, oil, dirt, or bacteria! Make it a habit to change out your sheets weekly. You could also purchase a silk pillowcase — this helps prevent wrinkles AND frizzy hair! Win-win!
Not Knowing Your Skin Type
If you don't know what your skin type is, you are more than likely using the wrong products for it. Head on out to your local Ulta, they usually always have an esthetician in store that can help you determine your skin type.
Using TOO Many Products
Loading up your skin with too many products can be ineffective. Less is more. Try to use products that your skin needs and alternate days.
You Might Also Like // Hourglass Vanish Liquid Foundation Review
---
Shop Some of My Favorite Skincare Products

---
We all KNOW that taking care of our skin is a must, but it can be overwhelming. Take a look at these skincare mistakes you might be making & how to fix them! Click To Tweet
Now that you know some of the most common skincare mistakes, did you catch one you were making? They all have simple fixes. It's all about finding a routine that works for you, and sticking to it. Feel free to message me with any questions, or drop them below!
Do you have a set skincare routine? Any mistakes you catch yourself making?
Enjoyed this post? Please share it on social media and pin this post! I truly appreciate your support!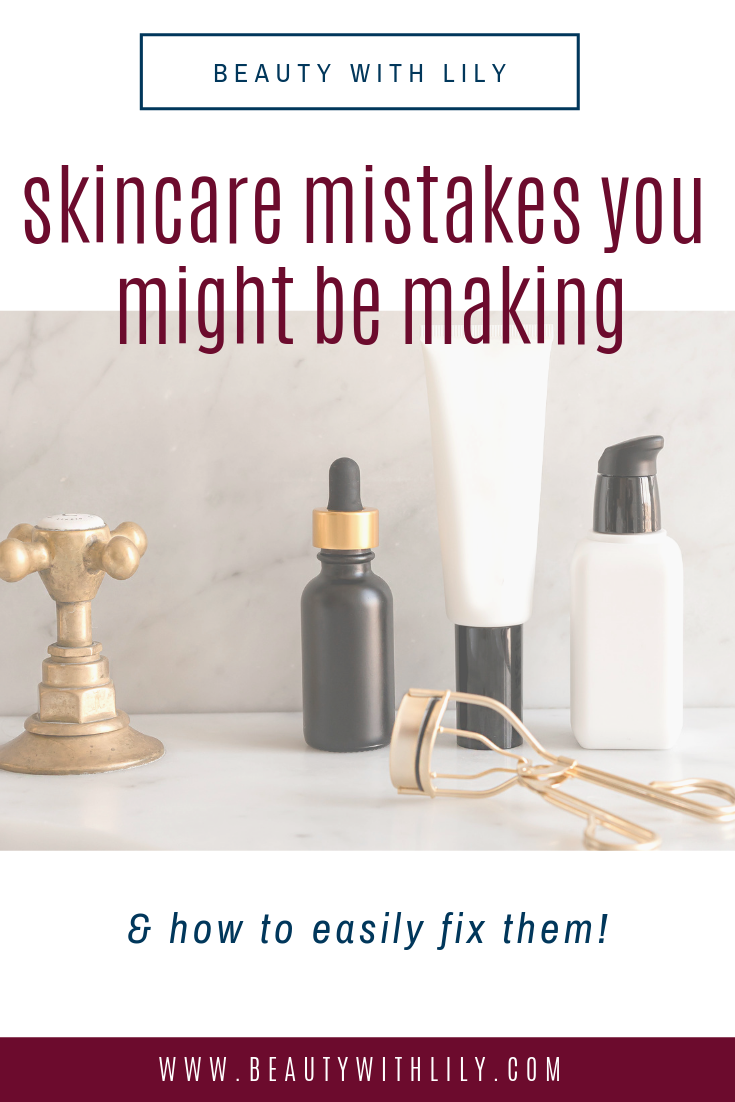 1