Spring is officially here and it's time for a road trip! With that said, these are the 5 Spring Break Packing Essentials you can't forget! 
This post is sponsored by adidas.
This post may contain affiliate links. Meaning that any clicks/purchases may result in a small commission to keeping Beauty With Lily running at no additional cost to you. 
Hi everyone! I hope y'all had a wonderful weekend. Last week was kind of a blur, I was super busy and the weekend just flew by. Thankfully I did manage to relax and get some much needed rest yesterday. Self-care Sunday's are the best! Now, let's jump right in to today's post. It's all about things you may forget to pack for any type of trip.
5 Spring Break Packing Essentials
Personal First Aid Kit
This is something quite essential! You can easily make your own (make sure to pack bandaids, triple antibiotic ointment, itch cream, pain relievers, alcohol wipes, etc.) or you can purchase one at most stores. You never know when you, or someone who's traveling with you, might fall and scrape their knees or have a headache. 
Extra Cash
It's always a good idea to stash away some extra money in your makeup bag, or somewhere safe in your suitcase for emergencies. If you're headed out of the country, always make sure to let your bank know ahead of time. But even if you're just a few states away, your account could get flagged for suspicious activity. Usually it's something that can get taken care of rather quickly, but if it's a holiday or night time, you'll be glad you had that extra cash.
Extra Clothing
Pack your bag as you normally would, AND an extra change of clothing and comfortable shoes, that you can carry in your backbag or handbag, if it's big enough — just in case! What if you spill something on you while you're out — what if your feet hurt? Whatever the case may be, you want to be prepared. We are headed out of town soon and these adorable adidas slides are definitely getting packed in my new adidas duffel bag that I'll be using for any "just in case" items.  
Snacks
You can't go on a trip (especially a road trip) without snacks! It's so tempting to grab junk food when you make stops at convenience stores BUT if you want to avoid that, your best bet is to pack ahead of time. Stock up on your favorite healthy favorites (nuts, protein bars, popcorn, etc.) and throw them in a snack bag. You'll end up saving some money this way too.
Refillable Water Bottle
Speaking of snacks…bringing a refillable water bottle along will also help in avoiding soft drinks, etc. AND if you also pack water in your snack bag, all you'll have to worry about is the ice.
You Might Also Like // Amazon Must Haves
Spring is officially here and it's time for a road trip! With that said, these are the 5 Spring Break Packing Essentials you can't forget! Click To Tweet
I hope you found this list helpful. Getting ready for any kind of trip, can be overwhelming.
Have any fun road trips planned soon?
Enjoyed this post? Please share it on social media and pin this post! I truly appreciate your support!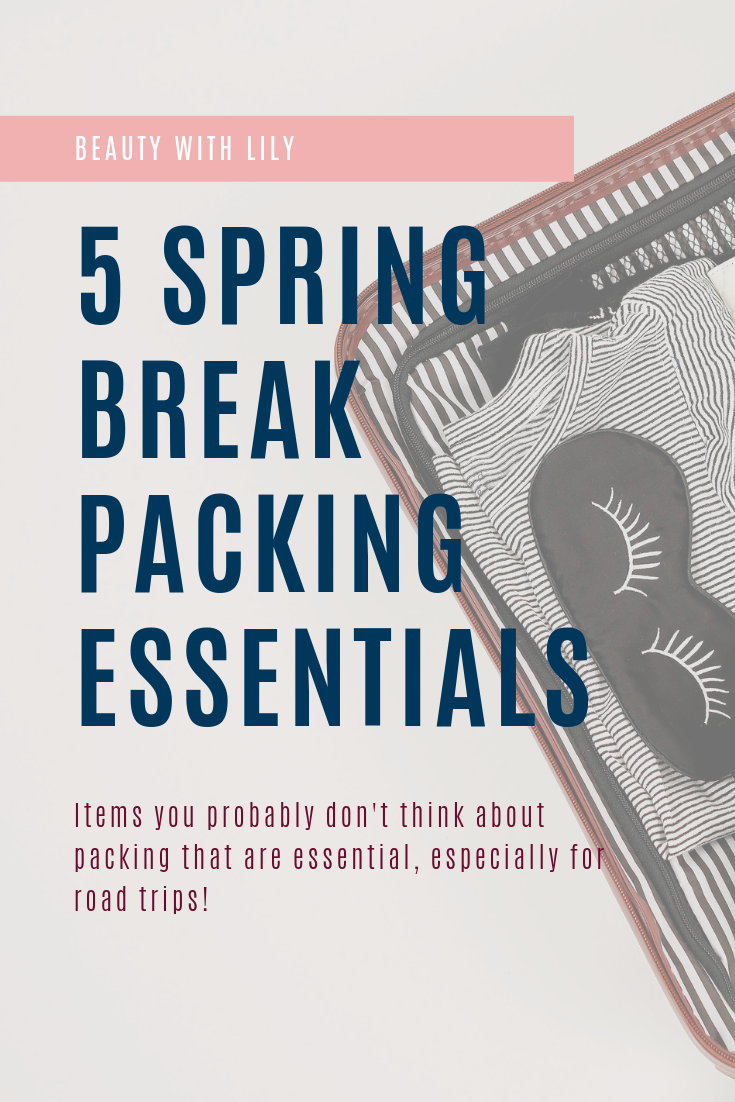 It's officially Spring and time to treat yourself to some shopping!
I've teamed up with a group of bloggers to give you
a chance to win a $750 Nordstrom Gift Card!
To enter: complete the steps in the rafflecopter below. The more steps you complete,
the more entries you receive, and the better your chance at winning!
This giveaway runs until Tuesday, April 9th at 12am PST
Winner will be announced here. Good Luck!
*this giveaway is in no way sponsored by Nordstrom.
0