I'm sure you've heard of these hyped beauty favorites, I put them to the test and I'm telling you ALL about them and how they worked. 
This post may contain affiliate links. Meaning that any clicks/purchases may result in a small commission to keeping Beauty With Lily running at no additional cost to you. 
Hi friends! Wow, it's been awhile, hasn't it? After our little getaway, I was so busy with work, that I decided to give myself a week off from social media and the blog. It was so refreshing, but about 3 days into it, I was itching to get back to my creative space. AND on top of that, I was starting to get annoyed that my numbers were dropping on Instagram but I didn't give in though! Numbers are just that…numbers! And my well-being is much more important. After a week off, I feel refreshed and ready to get back to work! 
Hyped Beauty Products Put To The Test
I've been testing these products for quite some time now and I have a pretty good idea of how they work — and to my surprise, they've all made it to my current favorites list. Let's jump right in.
Maybelline The Matte Bar Eyeshadow Palette
I shared a few makeup looks using only this palette over on IG Stories and definitely grew to love it. It's a great addition to any makeup collection, especially if you are looking to add a good range of mattes. These shadows are creamy, not overly-powdery and blend perfectly! Great drugstore find.
Charlotte Tilbury Wonderglow Face Primer
If you are wanting that "glow from within" look, you need this primer. I don't use a ton of it (due to my oily skin) but it gives me a great outcome when I apply some to my cheekbones. If you have drier skin, I can see this being a good add in to your foundation routine.
SUCH a good moisturizer! I wasn't sure I would give in to the hype about this products, but it's good! I had a terrible reaction to a facial I had and after my skin calmed down, I was left with some dry patches, this cream took care of that instantly. My skin doesn't feel any oilier, or less oily for that matter, but it does feel hydrated and it looks radiant. Pricey, but worth it!
I've been using this face cleanser for almost 4 months, and I'm loving it. I use this strictly in the morning and my face feels so refreshed, but not stripped of it's natural oils. Before my reaction to the facial, I was also noticing that my problematic area (my chin) had not had any breakouts, aside from my usual hormonal/monthly breakout. If you decide to give it a try, you can use the code BWL20 for 20% off your purchase!
Murad Retinol Youth Serum and Retinol Night Cream
I added in these 2 products to my night time skincare about 3 months ago, after using them together for the first time, I am not kidding when I say that the next morning my skin had never felt better. It was the smoothest, softest it had been in ages! I didn't add or change anything else to my routine, aside from these products! I've used them religiously (with the exception of the last couple of weeks due to my reaction, I was instructed to stick to a super gentle and simple routine for awhile) and can honestly say that my skin feels and looks better.
You Might Also Like // Simple, Everyday Makeup Look
---

---
Watch The Video
---
I'm sure you've heard of these hyped beauty products, I put them to the test and I'm telling you ALL about them and how they worked. Click To Tweet
There you have it, a few products that are overly hyped put to the test and approved! LOL! In all seriousness though, they are all hyped for a reason.
Have you tried any of these products?
Enjoyed this post? Please share it on social media and pin this post! I truly appreciate your support!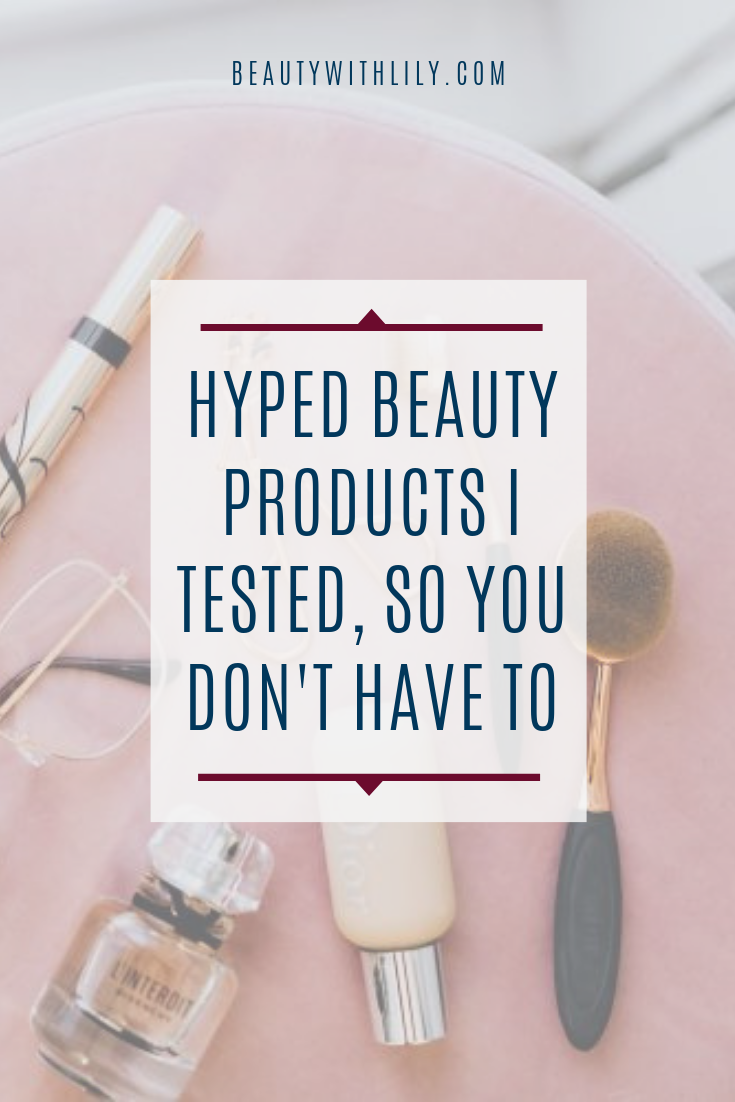 0