Calling all budgety-savvy babes! If you haven't yet, you need to try these 10 beauty items under $10 ASAP! Affordable, good quality…it's a win, win!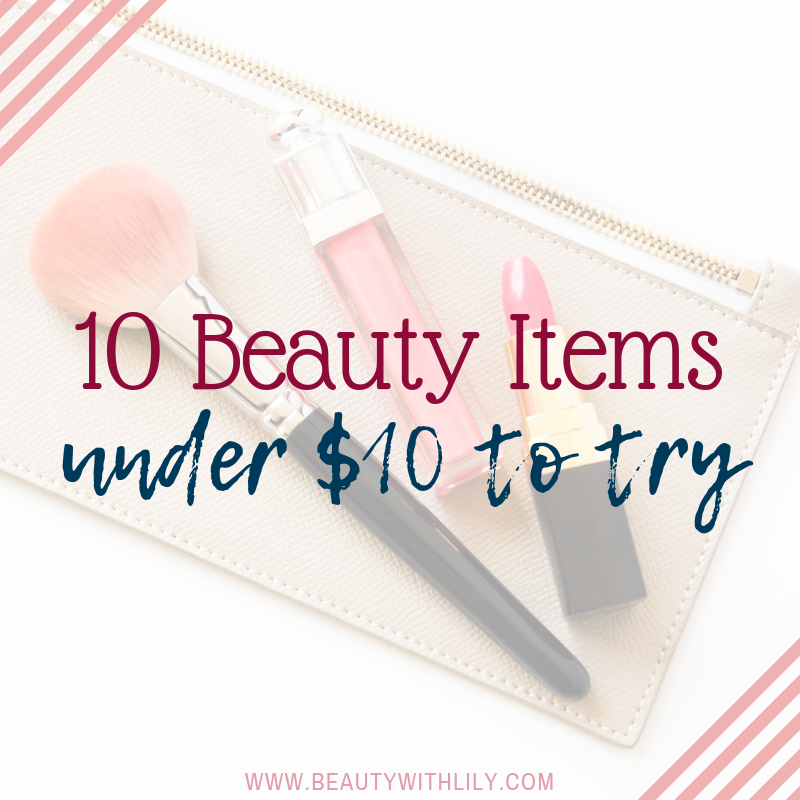 This post may contain affiliate links. Meaning that any clicks/purchases may result in a small commission to keeping Beauty With Lily running at no additional cost to you. 
Hi friends! I hope y'all had a good weekend and a wonderful Mother's Day too. I spent my weekend with my family, it was much needed!
10 Beauty Items Under $10 To Try
I've done a few of these types of posts over the years, but I like to update them when possible. So, here are the latest 10 beauty items under $10 you should give a try!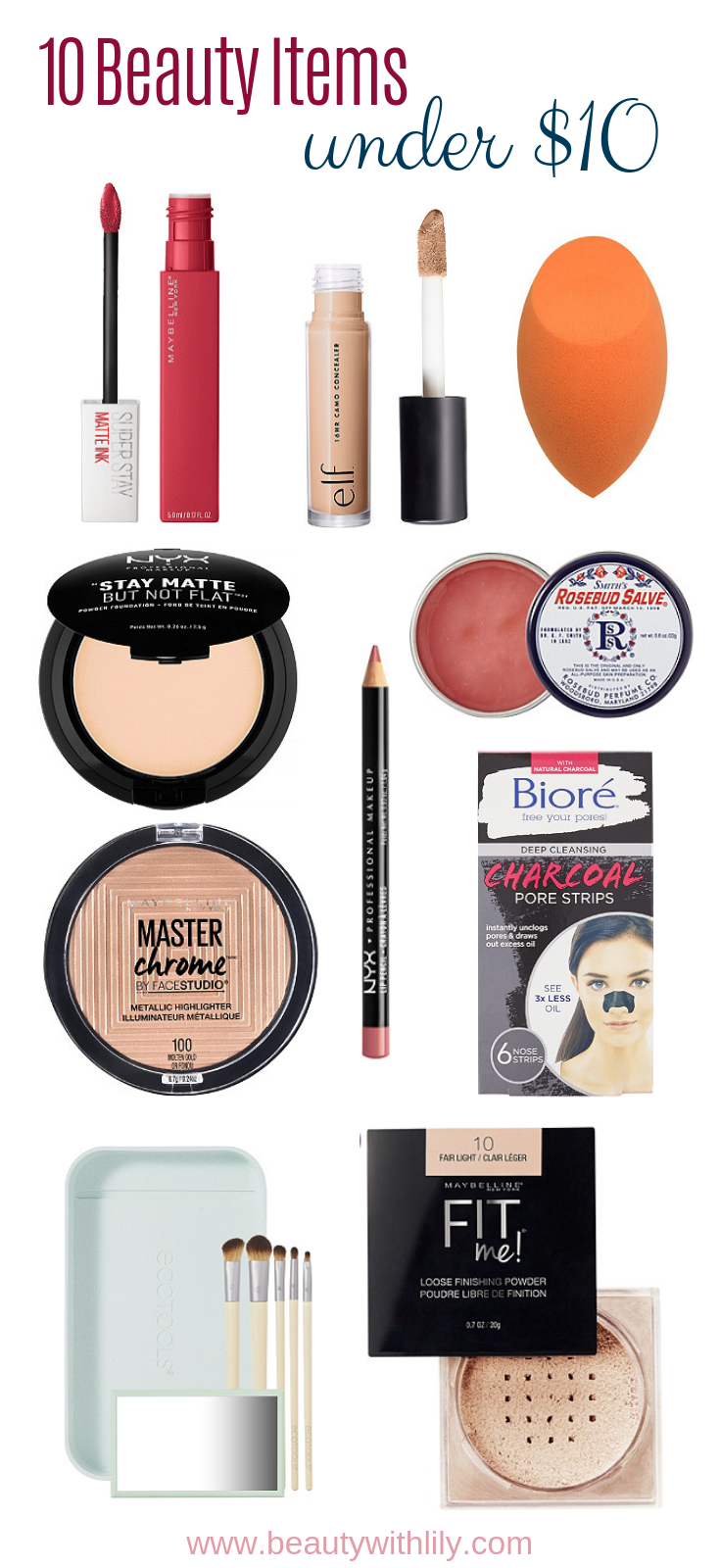 Face //
e.l.f. Cosmetics16HR Camo Concealer – Such a good concealer in GENERAL! The coverage is amazing, doesn't enhance fine lines and it's so inexpensive. Just a little warning though, it dries super fast, so blend in quickly! 
MaybellineFit Me Loose Finishing Powder – The best loose finishing powder from the drugstore. I do think it's best applied with a damp beauty sponge, versus a brush. 
NYX Professional MakeupStay Matte Powder Foundation – The powder mentioned above does not give coverage, so if you are looking for something that is going to give you coverage, this is it. It's actually a powder foundation — I've never used it for that, but I love to use it when I'm not having good skin days. 
Maybelline Master Chrome Metallic Highlighter – Such a good drugstore highlight that isn't chunky or glittery! 
Bioré Deep Cleansing Charcoal Pore Strips – These bad boys are SO good! They remove EVERYTHING! 
Lips // 
Rosebud Perfume Co.Smith's Rosebud Salve – This was actually recommended to me from one of you guys! I suffer from terribly dry, cracked lips and this salve is perfect to keep in my purse when on the go. 
NYX Professional Makeup Slim Lip Pencil – Love these lip liners! They come in tons of colors and aren't hard to apply. 
Maybelline SuperStay Matte Ink Lip Color – Super LONG wearing matte lip color — it lasts FOREVER! 
Tools // 
Real Techniques Miracle Complexion Sponge – I love the original Beauty Blender, but these are great too and super affordable. I love the flat side for foundation application and to apply powder too. 
EcoTools Daily Defined Eye Kit – I purchased a kit with the exact same brushes YEARS ago — I'm not kidding, it was probably my first real set of brushes — and I still have it and use it all the time. It's such a handy little kit and the brushes are amazing quality! 
You Might Also Like // Hyped Beauty Products
---

---
Calling all budgety-savvy babes! If you haven't yet, you need to try these 10 beauty items under $10 ASAP! Affordable, good quality...it's a win, win! Click To Tweet
Thanks a bunch for stopping by and reading today's post! I know I haven't been posting as consistently as I normally do, but once I share what has been going on, I think you guys will understand.
Have you tried any of these items? What is your favorite affordable product?
Enjoyed this post? Please share it on social media and pin this post! I truly appreciate your support!
0