Time for more makeup 101! This ultimate guide to foundation will help you find what your skin needs and how to color match yourself.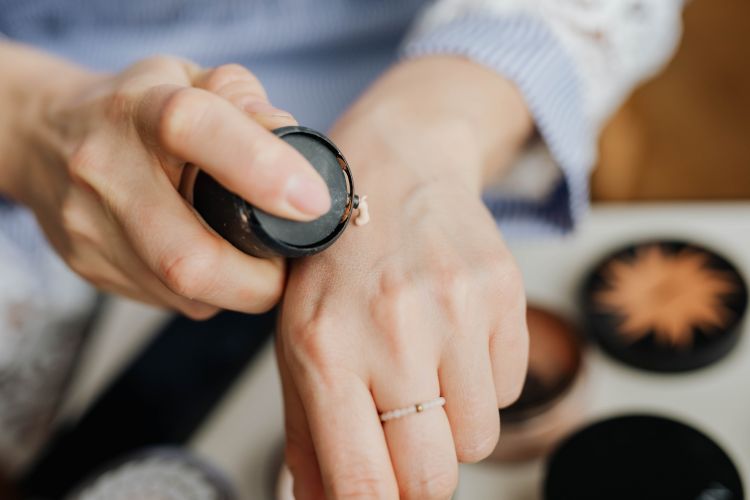 This post may contain affiliate links. Meaning that any clicks/purchases may result in a small commission to keeping Beauty With Lily running at no additional cost to you. 
In our first Makeup 101 post, I covered everything there is to know about primers, something that is crucial when applying makeup. Click here to go read it. Today, I'm sharing an ultimate guide to foundation…everything you need to know, how to color match yourself and more! So what is foundation? It is a skin-toned product meant to cover blemishes, even out your skin and give you a blank canvas to work with. Now that we have that, let's dive into this post. 
Makeup 101 | Ultimate Guide to Foundation 
Foundation Types
There are a few different types of foundation, let's cover each one of them.
Liquid Foundation:
Probably the most popular type of foundation you can find. They come in a variety of finishes, so more than likely you can find one that works for your skin type.
Cream Foundation:
Creams tend to be a thicker formula and are typically used by makeup artists. They can either be found in compacts or large palettes with multiple shades.
Powder Foundation:
You can find powder foundation in a pressed or loose formula — it's a tinted powder. They are mostly known to give medium coverage, but some can be built up. Powder foundation can also be applied over a liquid foundation to help give more coverage, and help with oily skin.
Stick Foundation:
Stick foundations are solid cream foundations that come in a stick form. Often times they provide full coverage.
BB/CC Creams:
Some people consider bb and cc creams foundations, but they are a different type of base. They give coverage like a foundation but unlike foundations, they have skincare benefits that you won't find in your everyday foundation.
Foundation Coverage
You can find different types of foundation coverage, this is how well it covers your skin.
Sheer or Light Coverage:
This will give your skin a light level of coverage, evening out your skin tone but not concealing blemishes very well. It looks very natural on the skin and can usually be found in different finishes.
Medium Coverage:
This will even out your skin, hide redness and conceal blemishes better than a light coverage foundation. This still leaves a natural finish on your skin, since it still showcases your skin.
Full Coverage:
Full coverage foundations cover EVERYTHING. Since this has a high level of coverage, it usually doesn't look natural on the skin. One thing you'll want to avoid when using full coverage foundations is "caking" or applying too much.
Buildable Coverage:
Buildable foundations can build up very easily and they won't "cake" up on you.
Foundation Finishes
Once a foundation has been applied, it will dry down to a certain finish. But keep in mind that primers and skincare, can alter this.
Satin:
This finish is a perfect combination of matte and dewy. This also looks the most natural on the skin. This finish is great for all skin types, but if you are extremely oily, make sure to use a mattifying primer.
Dewy/Luminous:
This is a glowy finish — best for those who have dry, normal and/or mature skin. This is not a good choice for those with oily skin. This leaves a very youthful glow to this skin.
Matte:
Matte foundations are very flat and have NO sheen to them whatsoever. This would not be a good choice for those with dry or mature skin. If you have oily skin, this finish will work best on you. Most matte foundations provide full coverage.
You Might Also Like // Sweat Proof Makeup Tips
---
Shop My Favorite Foundations

---
How To Choose a Shade for You
There are several factors to consider, when color matching yourself.
Skin Tone:
This ranges from fair to deep skin tones. Most brands divide their shade ranges by skin tones…making it easier on the consumer to stick to one section.
Undertones:
This is when things can get a little difficult. Undertones have to do with the different shades of color that make up your skin's color — yellow, pink, warm or cool.
One of the best ways to figure out your undertone is by looking at your veins in your wrist (in good light.) Are they green? If so, you're warm toned…so a foundation with a yellow tone will work for you. If your veins are blue, you are cool toned and should go for a pink toned foundation. Does it look like they are both green and blue? Then you are neutral toned.
I highly recommend going to a MAC or Estee Lauder counter to get color matched. Especially if you are purchasing foundation for the first time. They will color match you for free and even give you samples. Study your shades and read the descriptions of other companies to find your best match.
Where to Match:
One of the biggest mistakes I see, is when people try to match their foundation to their hand or wrist. The problem here is that your skin coloring is different on different parts of your body. Often times, your hands and arms are much tanner than your face and neck.
With that said, it's best to match yourself right in between your face and neck. This will give you the most accurate shade.
Time for more makeup 101! This ultimate guide to foundation will help you find what your skin needs and how to color match yourself.
Click To Tweet
I really hope that this makeup 101| ultimate guide to foundation was helpful for you! If you have any questions, feel free to drop them below! 
What is your favorite foundation?
Enjoyed this post? Please share it on social media and pin this post! I truly appreciate your support!
0