We've all had bad days…so why mope around and complain about it. Instead try these 15 ways to make yourself feel better after a bad day!
This post may contain affiliate links. Meaning that any clicks/purchases may result in a small commission to keeping Beauty With Lily running at no additional cost to you. 
Bad days are inevitable, they happen to all of us. But there's no need to mope around and complain about it — it only makes things worse. Try these ways to make yourself feel better after a bad day, instead!
15 Ways To Make Yourself Feel Better After A Bad Day
Buy Yourself Flowers
Not only are flowers a great pick-me up, they smell amazing and it's an affordable way to treat yourself. Another plush, they make great home decor!
Watch A Comedy
Stream something that is sure to make you laugh! Watch your favorite movie…comedy show or Netflix series. Focus on whatever it is you choose to watch, don't look at your phone…just be in the moment.
Get Your Workout On
Try meditating…or pull up a simple yoga routine on YouTube. Anything to get your mind elsewhere and your body going. Remember Elle Woods and her iconic words: "Exercise gives you endorphins. Endorphins make you happy. Happy people just don't shoot their husbands. They just don't."
Take A Nap
Snuggle yourself in a mound of cozy blankets and pillows. Cry if you have to. Just let your mind drift and go to sleep.
Get Lost In A Book
Pick up that book you've had for weeks now and dive into it. Get lost in the pages and let your stress melt away. PS — make yourself a cup of tea or grab a glass of wine!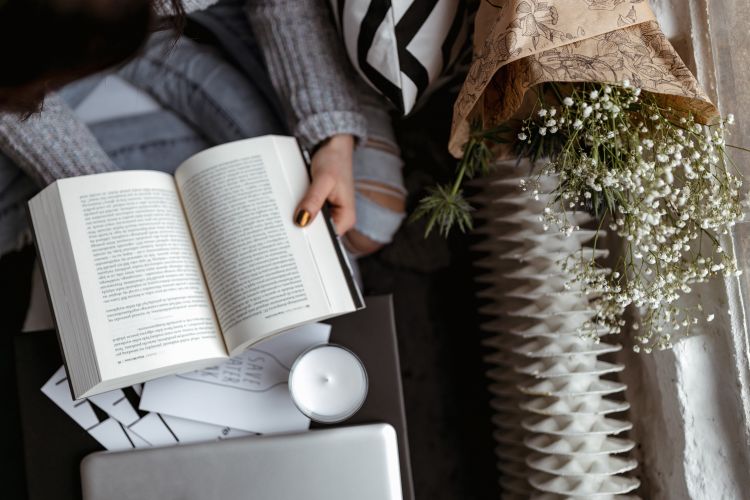 You Might Also Like // What Failed Friendships Taught Me
Go Star Gazing
Sometimes the best thing to do when you are not having a good day is to surround yourself in nature. The world is amazing and so incredibly beautiful. It will make your problems seem so minute.
Take A Bubble Bath
Soak in your favorite bath salts, light some candles, play some music and pour yourself a glass of wine. Relax and enjoy the moment of pure bliss!
Meet Up With A Friend
Call that friend that always makes you feel better. Meet up for happy hour and enjoy their company. Vent if you need, but don't make the entire meet up about your bad day.
Have A Dance Session In Your Room
Turn on your favorite jams and just dance! Let it all out, girlfriend!
Cuddle With Your Pet
Animal therapy is amazing and it works! If you have a pet, snuggle with them…give them some extra loving. Sometimes they sense when we aren't having good days and will be extra cuddly. If you don't have a pet — hit up a shelter. Those poor babies need some loving too.
You Might Also Like // 15 Easy Self-Care Ideas to Treat Burnout
Scream
Sometimes you just need to let that negative energy out and screaming is the way to go.
Bake or Cook Your Favorite Treat
Gather all of your utensils and get to cooking your favorite treat. Maybe something that you don't make often — turn on some music and dance around in your kitchen.
Make A Donation
Helping others always makes your feel better, so why not donate. It doesn't have to be monetary…you can donate old clothes, your time, carry someone else's grocery bags, etc.
Tidy Up Your Space
A messy space can sometimes add on to your already bad mood. Get to organizing and tidying up your space.
Go For A Long Drive
Get in your car, turn on some music and just drive. You don't have to have a destination — roll the windows down and enjoy the breeze.
We've all had bad days...so why mope around and complain about it. Instead try these 15 ways to make yourself feel better after a bad day! Click To Tweet
What are some of your favorite ways to de-stress? Let me know down below and I hope you give some of these ideas a try, next time you have a bad day. Just remember…it's a bad day, not a bad life.
How do you de-stress after a bad day?
Enjoyed this post? Please share it on social media and pin this post! I truly appreciate your support!
1