Are you looking for a youthful and glowy makeup look? These 7 hacks to achieving the "no-makeup" makeup look will get you just that! 
This post may contain affiliate links. Meaning that any clicks/purchases may result in a small commission to keeping Beauty With Lily running at no additional cost to you. 
If you're just getting into makeup or don't know much about makeup you might think I'm crazy…what is this "no-makeup" makeup nonsense? Essentially it's the bare minimum…where we'll focus more on what products you apply, technique and prepping your skin. Versus how many products you apply. Let's jump right in.
7 Hacks To Achieving The "No-Makeup" Makeup Look
Start With Your Skin
I've always said that good, glowing, healthy skin is essential and something you normally have to work on. It takes a good routine and consistency to have healthy skin. The "no-makeup" makeup look is all about a youthful look, so before you dive into this look…get ready to prep your skin. Use a hydrating face mask, especially if you have dry skin. If you are more on the oily side…only apply it to the areas of your skin that are not oily.
Don't Skip The Primer
When you're going for a minimal look a primer will get you a perfectly smooth base. If you have larger pores, choose a pore filling primer…this will fill in those pores without clogging your pores. An illuminating primer will give you that "glow from within" look. If you'd like to learn more about primers, what is best for your skin, etc, check out this post!
Opt For Minimal Coverage
…or spot conceal! The last thing you want is a full coverage foundation. So if you are comfortable with only spot concealing….go for a concealer that is your color and cover those imperfections. If you want something that will give you more of an even skin tone, then a CC or BB cream will work best for that.
Use All Cream Products
Creams make everything look much more natural and they sink right into your skin. After applying your CC cream (or concealer) go in lightly with a cream bronzer, blush and highlight. If you're worried it that it won't stay in place all day, you can lightly set your entire face with a translucent powder, followed by a good mist of a long-wear setting spray.
Dewy Skin Is Your Friend
I've mentioned this before, but with this look you want a good healthy glow to your skin. I mentioned above to opt for a cream highlight for a more natural look, you could also use a liquid product. Use your fingers to blend it in, the warmth of your fingers helps melt the product into your skin so much easier.
Don't Forget Your Brows 
If you have super sparse brows, go ahead and fill them in lightly. But if you can get away without filling them in, even better. Just brush them up and set them with a clear brow gel.
Tint Those Lips
You know that tine you get on your lips right after eating a popsicle during the summer time? That's the look we are going for. You can do this technique at home with products you already own…just apply a natural color (preferably something not too opaque) on the center of your lips. Then with a napkin, blot your lips. Simply blend the color to your outer lips using your fingers. Add a tiny bit of lip gloss for a nice shine and you're done!
You Might Also Like // How To Update Your Beauty Routine For Fall
---

---
Have you tried any of these tips? How often do you wear makeup? Perhaps next time you try the "no-makeup" makeup look, you give these a try! Thank you for stopping by!
Are you into the "no-makeup" makeup look?
Enjoyed this post? Please share it on social media and pin this post! I truly appreciate your support!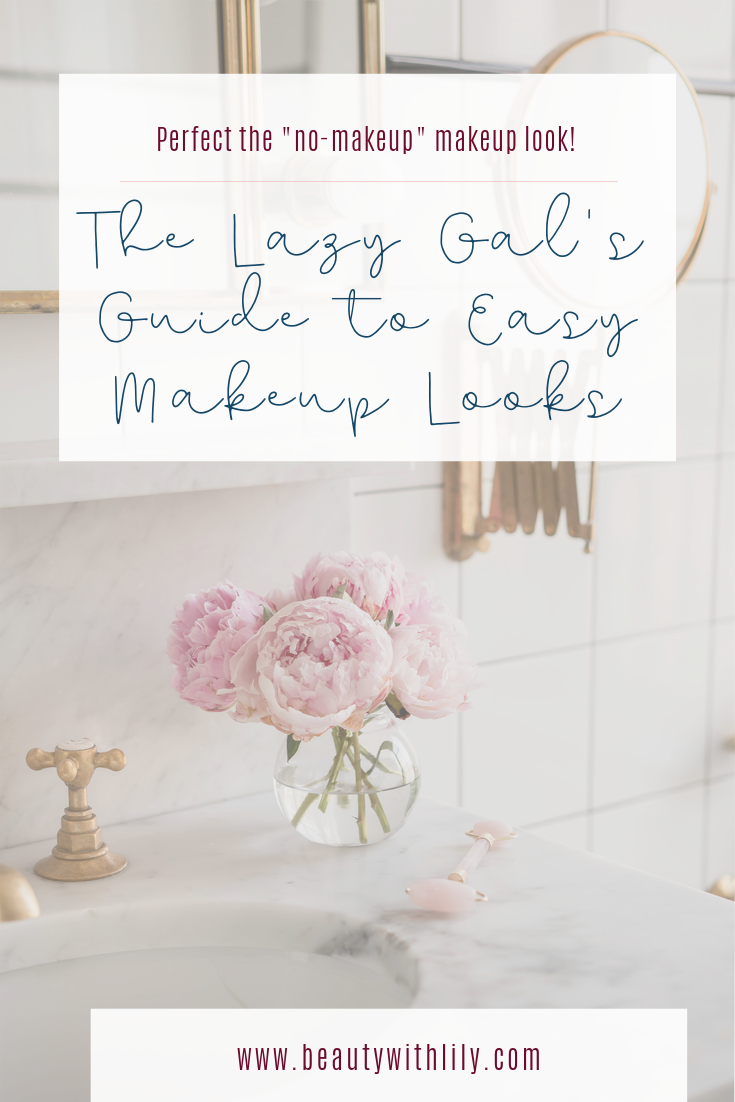 2