Have you thought about what essential beauty gadgets you should add to your bathroom? This post rounds up some of the BEST gadgets for your skin and more!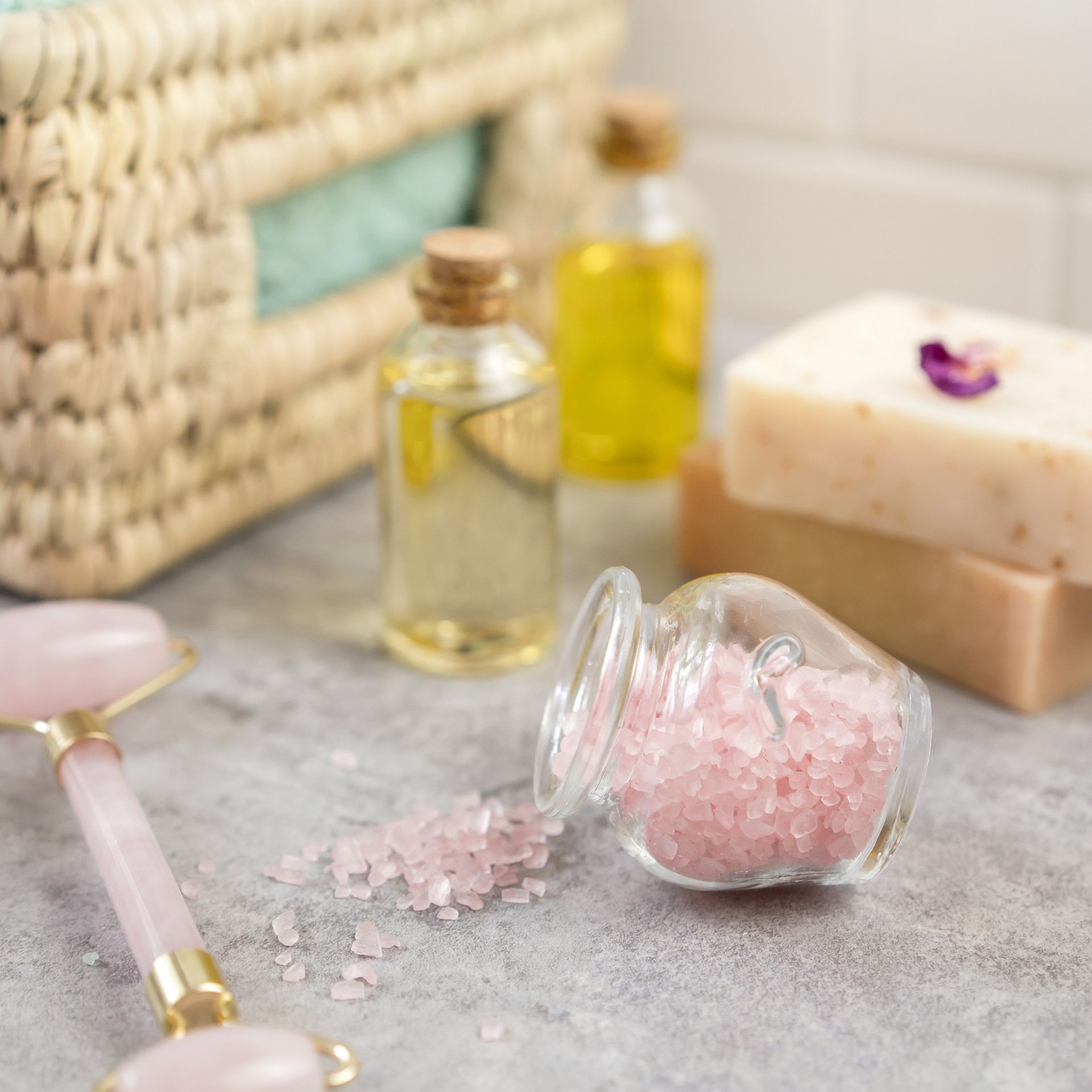 This post may contain affiliate links. Meaning that any clicks/purchases may result in a small commission to keeping Beauty With Lily running at no additional cost to you. 
Happy Monday! Today I'm talking all about beauty gadgets YOU need in your life! Everything from skincare devices to hair care gadgets! Let's dive right in!
Essential Beauty Gadgets 
Fan // I'm starting off with something that isn't JUST for beauty purposes…because let's be honest, a fan can be used for LOTS of things. But I like using mine after I've have sprayed on my face primer and after spritzing my face with a setting spray as well. Not only does it speed up the drying process, it feels so cooling on the skin. I can't take credit for this, my girl Jasmine from Jasmine Maria shared her fan on her Instagram Stories and how much she loved it, so I definitely had to have one as well.
Palette & Spatula // If you use any type of liquid foundation or concealers you NEED this in your life ASAP! The spatula is perfect to dig out any liquid that you may not be able to pump out, etc. Keep things sanitary by not using your hands, instead use the palette to pump foundation on to and wash it afterwards.
Jade Roller // When these first became all of the rage, I didn't think I needed one. But after using one for over a year now, I can't live without it. I place mine in the fridge and after applying a serum or moisturizer I go in with the jade roller. It helps depuff and promotes circulations as well. So neat and so affordable!
Dermaplaning Device // I've had this device for several months now and I am obsessed with it. It's not only super affordable to remove your facial hair at home with this device, it also helps exfoliate your skin…giving you the smoothest skin possible. It's an investment at first…but it eventually pays for itself…especially if you wax or have facials regularly.
Bikini Trimmer // Getting a little personal here — but I have to share this razor with y'all! I get bikini waxes regularly, but sometimes you need to keep things a little tamed and trimmed before your next appointment…so that's where this device comes in. I can't speak too much about the actual razor, but the trimmer itself is amazing. It's waterproof, so you can use it in the shower and does a great job.
Clarisonic Brush // After using a Clarisonic Brush for over 2 years now…I don't think I can NOT use one. It gives your face the deepest cleanse, while mildly exfoliating it too. I use mine once a week…since my dermatologist told me to lay off of using it daily, due to my sensitive skin. But it's something I can't live without.
Revlon One-Step Volumizer Hair Dryer // I love this hair gadget! It's so easy to use (it does take some practice) and leaves your hair looking like you just left the salon! If you love that brazilian blowout look…you NEED this!
Personal Microderm Device // I've had this for years and love, love, love it! I don't use it all the time…mainly after really bad breakouts that have left ugly scars. This helps get rid of acne scarring at-home, in a gentle way.
Facial Steamer // If you love having facials…but hate spending money on them. Get yourself a facial steamer! I use mine once a week for an at-home spa night…and it's the best little gadget ever! PS — it's under $30!! This helps open up your pores so that your skincare products can deeply penetrate your skin.
You Might Also Like // 7 Hacks To Achieving The "No-Makeup" Makeup Look
---

---
Have you thought about what essential beauty gadgets you should add to your bathroom? This post rounds up some of the BEST gadgets for your skin and more! Click To Tweet
There you have it…some of my absolute, can't live without, essential beauty gadgets! Now…tell me what some of your favorites are down in the comments section!
What are some of your favorite beauty gadgets?
Enjoyed this post? Please share it on social media and pin this post! I truly appreciate your support!
1