Time for some makeup 101! This ultimate guide to concealer & correctors is going to help you achieve your best makeup days, perfect for beginners.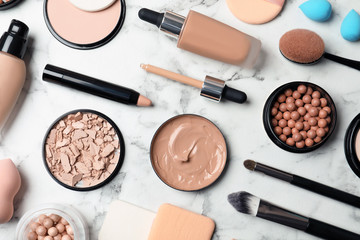 This post may contain affiliate links. Meaning that any clicks/purchases may result in a small commission to keeping Beauty With Lily running at no additional cost to you. 
Hi friends! Welcome back to another makeup 101 post! Today's is an ultimate guide to concealer & correctors! So you are going to get the 411 on all things concealers and correctors. Let's dive in!
Makeup 101 | Ultimate Guide to Concealer & Correctors
What Is A Concealer? What About A Corrector?
A corrector is either a liquid or cream product, that comes in several colors (green, peach, pink, yellow) that is used UNDER your concealer or foundation, to help color correct. Green cancels out redness, peach cancels out dark circles, etc. I have a super in depth post all on color correcting AND concealer tips and tricks here that you can read. It's really informative and I even made a chart explaining each color. A concealer is also a liquid or cream product, that provides high-coverage that can be used under or over foundation to help cover up blemishes, dark circles, tattoos, etc. You can even use it to sculpt your face…which we'll talk about more later on in this post.
Types of Concealers
Like foundations, there are a variety of types of concealers.
Liquid and Creams:
Liquid concealers tend to be the most popular. They come in a wide range of colors, finishes and coverage. They can be found in a similar packaging as a lip gloss. Cream concealers tend to be a little more full coverage and can be found in a pot or palette. But because they are a cream finish, they tend to cake up easily on the skin. Often times you'll come across a stick concealer, similar packaging to a lipstick, these are a solid form and range in coverage and finishes as well.
Types of Finishes
Just like foundations, you'll find matte, dewy or satin finishes. If you have oily skin, you'll want to stick to a matte finish. For dry skin, something with some dewiness will work best for you. And for those with normal skin, you are lucky and can choose whatever you prefer.
Coverage Level
Generally, most concealers range from medium to full coverage. Some concealers are SO high in coverage, that you can use them to cover up tattoos! You'll have to try several types and brands of makeup to find out what works best for you. Just keep in mind that blending is key, and being able to layer correctors, concealers and foundation is also super important.
You Might Also Like // 7 Hacks To Achieving The "No-Makeup" Makeup Look
How To Sculpt With Concealer
If you are looking to sculpt your face, also known as contouring and highlighting, you'll need a concealer that is 2 shades LIGHTER than your normal concealer and one that is 2-3 shades DARKER than your normal concealer. It's best to stick with a concealer that has a matte finish and blends easily.
Placement is KEY — You are going to be placing the darker shade in the hollows of your face (where shadows are easily created) and the lighter shade where the sun naturally hits your face. Check out THIS illustration for a good visual.
Blend and BLEND some MORE — Blending is super important when it comes to highlighting and contouring with concealers. Don't let the concealer sit on your skin for too long, it will dry down, making it harder to blend seamlessly. Once you've blended it all out, give it one last blend…you want to avoid all harsh lines.
Concealer & Corrector Recommendations
I've tried my fair share of both correctors and concealers over the last few years. I had a long battle with acne a few months back and had to conceal my entire face. And I also have the worst dark under eye circles I think I've ever seen. So…trust me on these recommendations, they WORK!
---

---
Time for some makeup 101! This ultimate guide to concealer & correctors is going to help you achieve your best makeup days, perfect for beginners. Click To Tweet
I hope you found this ultimate guide to concealer & correctors helpful! Below are my previous makeup 101 posts!
What is your favorite concealer? Do you use correctors?
Enjoyed this post? Please share it on social media and pin this post! I truly appreciate your support!
0