Time for some makeup 101! This ultimate guide to setting powder will give you all you need to know about the different types of powders on the market.
This post may contain affiliate links. Meaning that any clicks/purchases may result in a small commission to keeping Beauty With Lily running at no additional cost to you. 
Hey friends! Welcome to another Makeup 101 post…these are perfect for makeup beginners, or anyone who's looking to learn more about makeup in general. So let's go ahead and dive in!
Makeup 101 | Ultimate Guide to Setting Powder
What Is A Setting Powder?
They are cosmetic powder products used to on top of cream or liquid makeup products to set them in place, on the face. There are a few different types of powders, let's review them.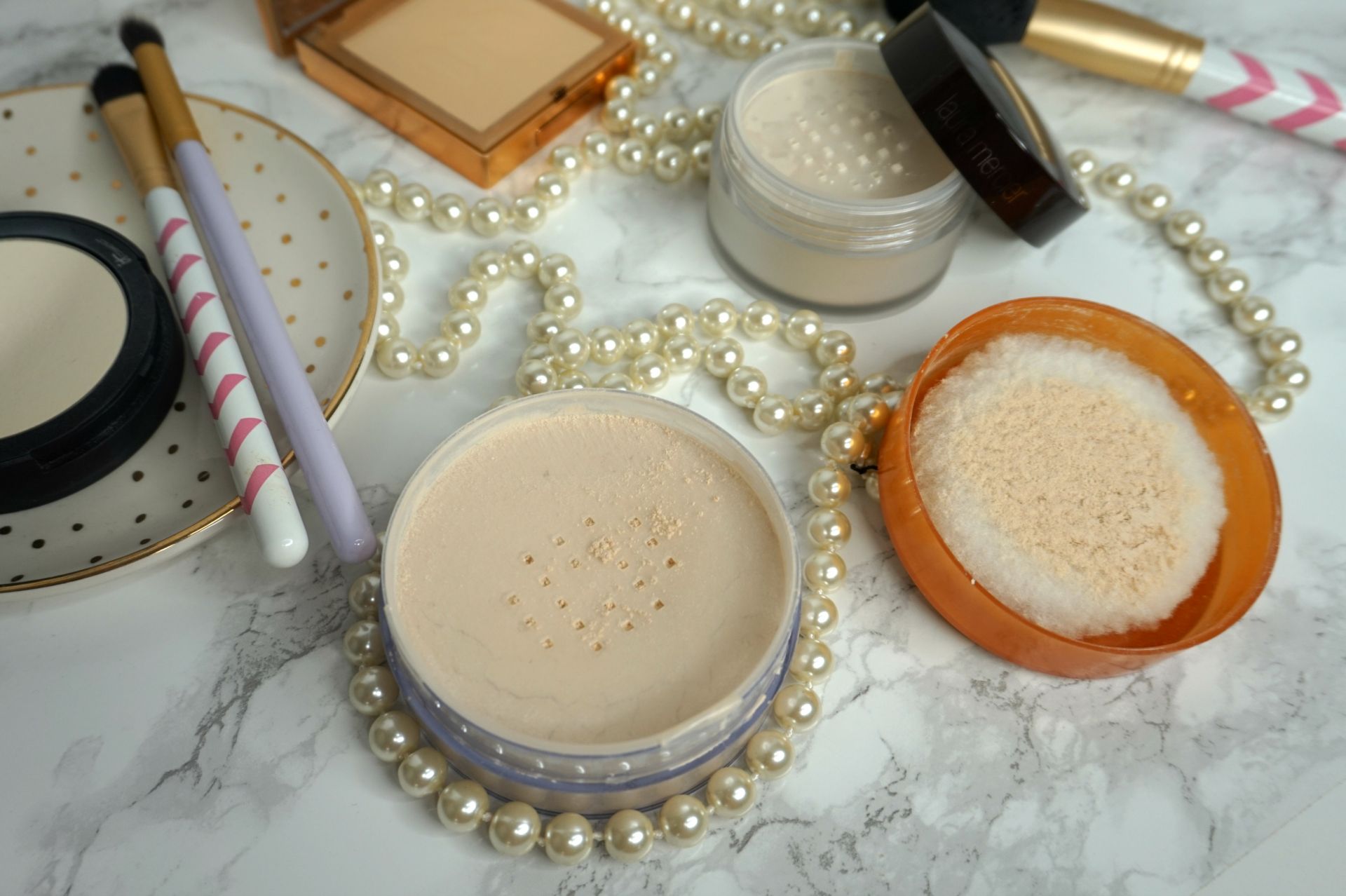 Types of Powders
Pressed
They are just that, pressed powders. Similar to how a blush or bronzer is pressed. They are usually tinted and come in a variety of shades and tones. They can provide light up to full coverage. These are great to throw in your bag for on-the-go touch-ups.
Loose
These are normally packaged in a jar type of container. Loose powders are finely milled and can be quite messy. They can also range from translucent powders to tinted shades.
Translucent
Translucent powders have to tint to them. Their main purpose is to set makeup and help control oil and shine. You can often find these in a pressed form, but they are normally found in a loose powder.
HD/Finishing
Similar to translucent powders, HD/finishing powders don't have tint to them and don't provide coverage. These powders aim to minimize pores, fine lines and give an overall airbrushed look. Something to keep in mind, is that they can cause flashback with flash photography.
Mineral
These typically come in pressed or loose forms and they are tinted and provide coverage. They are made of finely milled minerals that are said to be better for your skin.
What is baking?
If you have watched videos on YouTube, or even on Instagram, you've probably heard of something called "baking." This is a makeup technique in which you apply a thicker than normal amount of powder to your face, or parts of your face, to help set everything in place. This technique is used with loose powders, usually translucent.
In order to back, you use a makeup sponge to apply a thick layer of powder to the area you desire. After letting it sit for a few minutes, with a fluffy brush you simply dust it off. This will leave a set, flawless and long-lasting area.
If you have dry skin, this technique may not work for you. It may leave your skin overly dry and cakey.
You Might Also Like // Makeup 101 | Ultimate Guide to Concealer & Correctors
What if I get cakey when I use a powder?
Speaking of cakey…should you use or skip powder if this occurs? One way to help get rid of "cake-face" is by using a setting spray after setting your face with powder. This should help things "melt" onto your skin and look more natural.
Setting Powder Recommendations
I have tried tons of powders throughout the years. I have oily skin, so keep that in mined when reading these reviews.
---

---
Time for some makeup 101! This ultimate guide to setting powder will give you all you need to know about the different types of powders on the market. Click To Tweet
I hope you found this ultimate guide to setting powder helpful! Below are my previous makeup 101 posts!
Do you use a setting powder? Which one is your favorite?
Enjoyed this post? Please share it on social media and pin this post! I truly appreciate your support!
0