Looking to up your skincare game? Maybe you don't know where to start? These are my top 5 Tula Skincare products! Great for all skin types.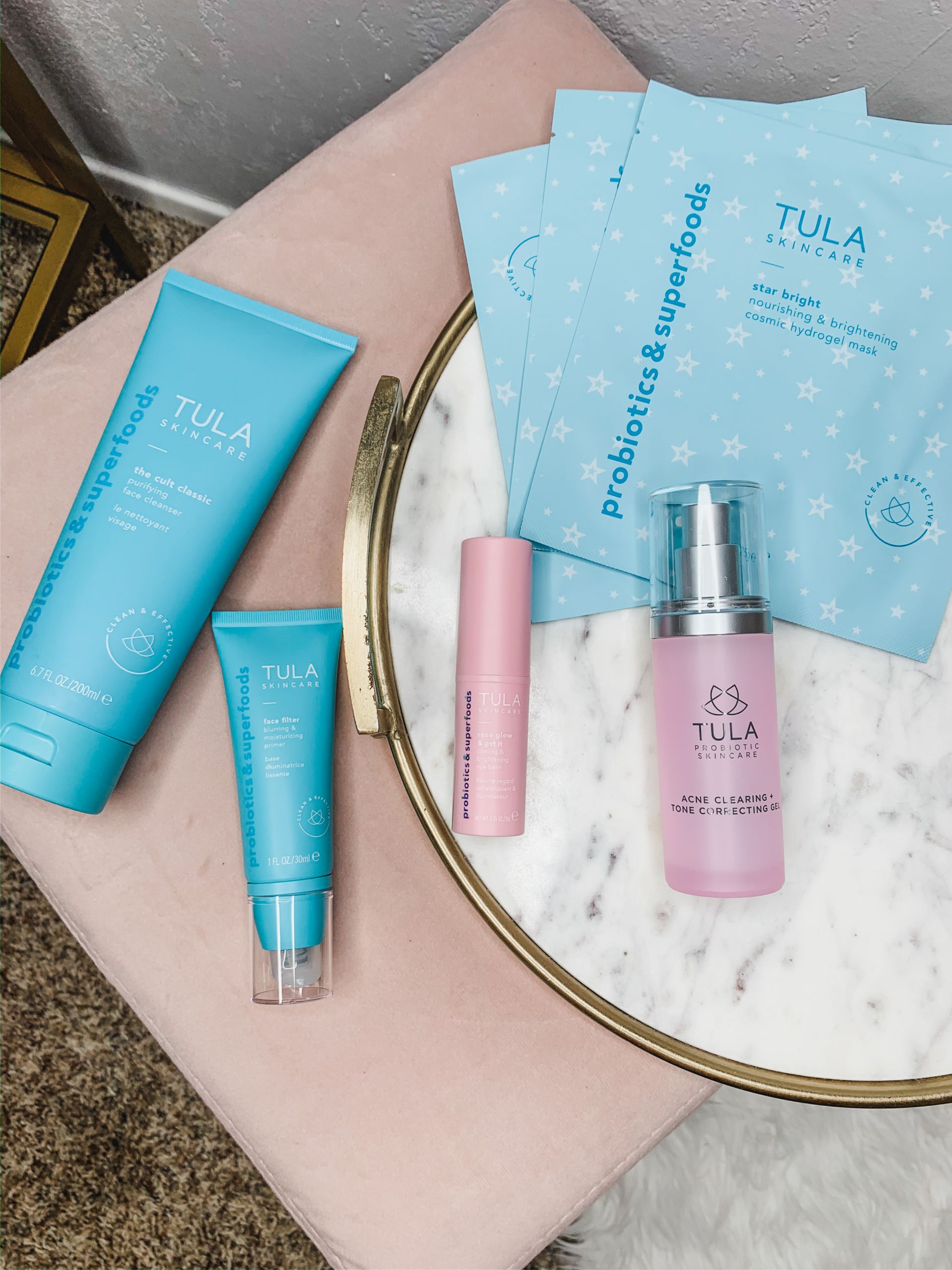 This post may contain affiliate links. Meaning that any clicks/purchases may result in a small commission to keeping Beauty With Lily running at no additional cost to you. 
Hey friends, I hope you all had a good weekend and didn't have to fight for toilet paper. I mean…how crazy is all of this!? I don't really plan on sharing my thoughts on all of this. But two things I feel strongly about are proper hygiene and prayer…especially during these crazy times. Now, let's get into today's post. 
Top 5 Tula Skincare Products
In case you aren't familiar with Tula Skincare, they do not formulate their products with any ingredients that have been clinically shown to be toxic…such as carcinogens or any irritants that compromise the health of your skin. Instead of all of the bad stuff, they use the good stuff! Such as probiotics, which are natural, good for you bacteria…that work to improve your health, inside and out. You can read more about probiotics and Tula here.
Classic Purifying Face Cleanser // 
If you're on the hunt for a cleanser that works on all skincare types, cleans deeps into your pores but doesn't strip your face or over-dry it…then THIS is the cleanser for you!
Face Filter Blurring & Moisturizing Primer // 
This primer instantly diminishes the look of pores, while keeping your skin hydrated and looking "Instagram-ready." Instantly get radiant skin with this primer!
Rose Glow & Get It Cooling & Brightening Eye Balm // 
This eye balm is so cooling, it instantly de-puffs and brightens your under eyes. You can wear this under or over makeup. I prefer to use it under my makeup…it gives a subtle glow.
Clear It Up Acne Clearing + Correcting Tone Gel //
This toner is perfect for those who deal with difficult breakouts. It has salicylic acid, which helps fight and prevent acne. It also helps diminish and scarring from past breakouts. Don't worry…this does not dry out your skin.
Start Bright Nourishing & Brightening Cosmic Hydrogel Masks // 
These gel mask give your skin an intense boost of hydration. I used one a week during the harsh cold months and my skin loved it!
You Might Also Like // Skincare Mistakes You Might Be Making
---

---
Looking to up your skincare game? Maybe you don't know where to start? These are my top 5 Tula Skincare products! Great for all skin types. Click To Tweet
There are SO many skincare brands out there…but if you are looking to try something natural, cruelty free and good for your skin. This is a must try brand! Feel free to use my coupon code BEAUTYWITHLILY to save some cash! 
Have you tried Tula Skinare? What are some of your favorite products?
Enjoyed this post? Please share it on social media and pin this post! I truly appreciate your support!
1