A new member to the family can really alter things for your dogs, here are a few tips on how to spoil your pets after a baby!
This post is sponsored by Babbleboxx. As always, all thoughts and opinions are my own. Thank you for the brands that keep BWL running. #PupMustHavesBBxx
If you know my husband and I, you know we are HUGE dog people…and before our sweet Noah came along, Mia and Charlie (okay, they still are) our babies. They went everywhere with us, had our full, undivided attention at all times and all of that changed drastically for them. It's been an adjustment for sure, but after a few months of juggling a ton, we found just how each of our dogs require attention from us.
How to Spoil Your Pets After a Baby
Each dog is different, our Mia loves affection…she's big but thinks she's little and wants to sit on our laps. While Charlie doesn't care too much for affection, he'd much prefer extra treats. And Sophie is just a sweet girl, she doesn't require a ton of attention, but does love the occasional snuggle.
Extra Treats with Pet Wants
Definitely check with your vet about giving your pets extra treats…but like I mentioned above, this is one way Charlie loves to be spoiled by. Thankfully Pet Wants offers fresh, clean and nutritious pet food…that can delivered for FREE right to your doorstep! As you can see, Sophie is enjoying one of the Peanutty Cookies, which are made with only 5, human-grade, clean ingredients! They are also power-packed with health-rich protein, fiber, and iron — which help boost their energy and immune systems. And another perk, they come in a resealable bag…so no messes! To Mia's dry food, we added in the Wild Caught, Freeze Dried Salmon as a meal topper. Their salmon is wild caught, not farm-raised, from the Pacific Northwest. So you know they are getting fresh, clean and nutrient-rich food! Salmon is a great source of Omega-3 and Omega -6 fatty acids — which help support the heart, kidneys and brain, reduces inflammation, and helps to repair dry, flaky skin.
Extra Toys with Multipet International
Not all dogs like toys — all of ours do…they LOVE them! Sophie is a cuddler, so Lamb Chop® was her favorite right away. It's super soft plush dog toy, which makes Lamb Chop great for cuddling and its squeaker makes it fun for playtime, which is right up Sophie's alley. It also comes in 3 different sizes, so you are sure to find the perfect one for your fur baby.
Now the Globken squeak toy is all about the noise — just what Mia likes — she goes crazy for the enticing squawk noise when squeezed. This colorful chicken is perfect for fetch and it comes in a variety of colors. Both of these toys are great at keeping your dog engaged, active and excited during playtime! And it even encourages movement (exercise and mental stimulation.)
Tip: Always supervise your pet when playing with pet toys and inspect them often. Do not allow your pet to play with a pet toy that is broken, damaged or worn.
If you'd like a chance at winning a bundle of Multipet International toys, now is your chance!
Boost Their Taste Buds with Dinovite
Our dogs get both dry and wet food. They dry food we leave out so they can munch on throughout the day, they don't overeat and are both grazers. My husband and I decided up amp up their dry food (and tastebuds) with the NubONubs Meal Booster. Which is a 100% freeze-dried meat meal topper that is added right on top of your pet's food. It's loaded with vitamins and minerals, super easy to feed (just sprinkle on top of their food) and it's freeze-dried raw meat, which increases the amount of protein for each meal. Make sure to follow the serving size guidelines on the packaging.
I've got a discount code for y'all to try, use code BOXX15 for 15% of any meal booster flavor (code is valid until 3/31/22, can only be used 2x per customer).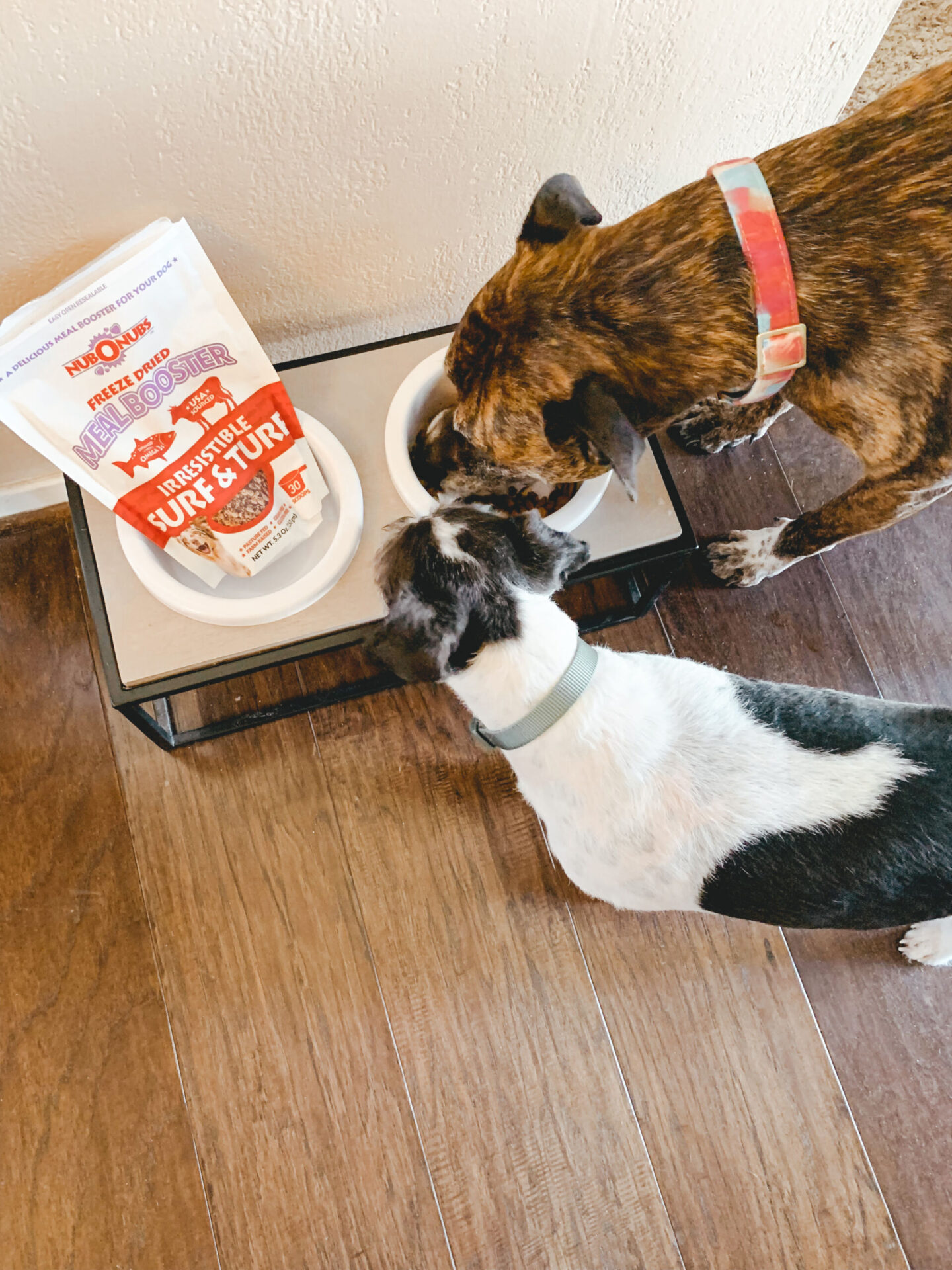 Enhance Meal Time with Champion Pet Food
Raw nutrition made simple — give your dog the benefits and taste of raw nutrition, without any of the mess. ACANA® Freeze-Dried Dog Food, comes in both morsels and patties, are rich and 90% quality animal ingredients infused with bone broth. Ingredients matter to ACANA. Charlie LOVES the chicken morsels, we added them as a topper to his dry food and he picked out just the morsels. LOL! And as you can see, the patty was Mia's favorite…they are her special treat.
You Might Also Like // Lifestyle Must Haves
Thank you so much for stopping by! I hope you found how to spoil your pets after a baby and a few new products to try for them. Our doggies loved everything and we will be stocking up with these goodies on our next pet shopping trip. 
What are some of your dogs essentials? 
Enjoyed this post? Please share it on social media and pin this post! I truly appreciate your support!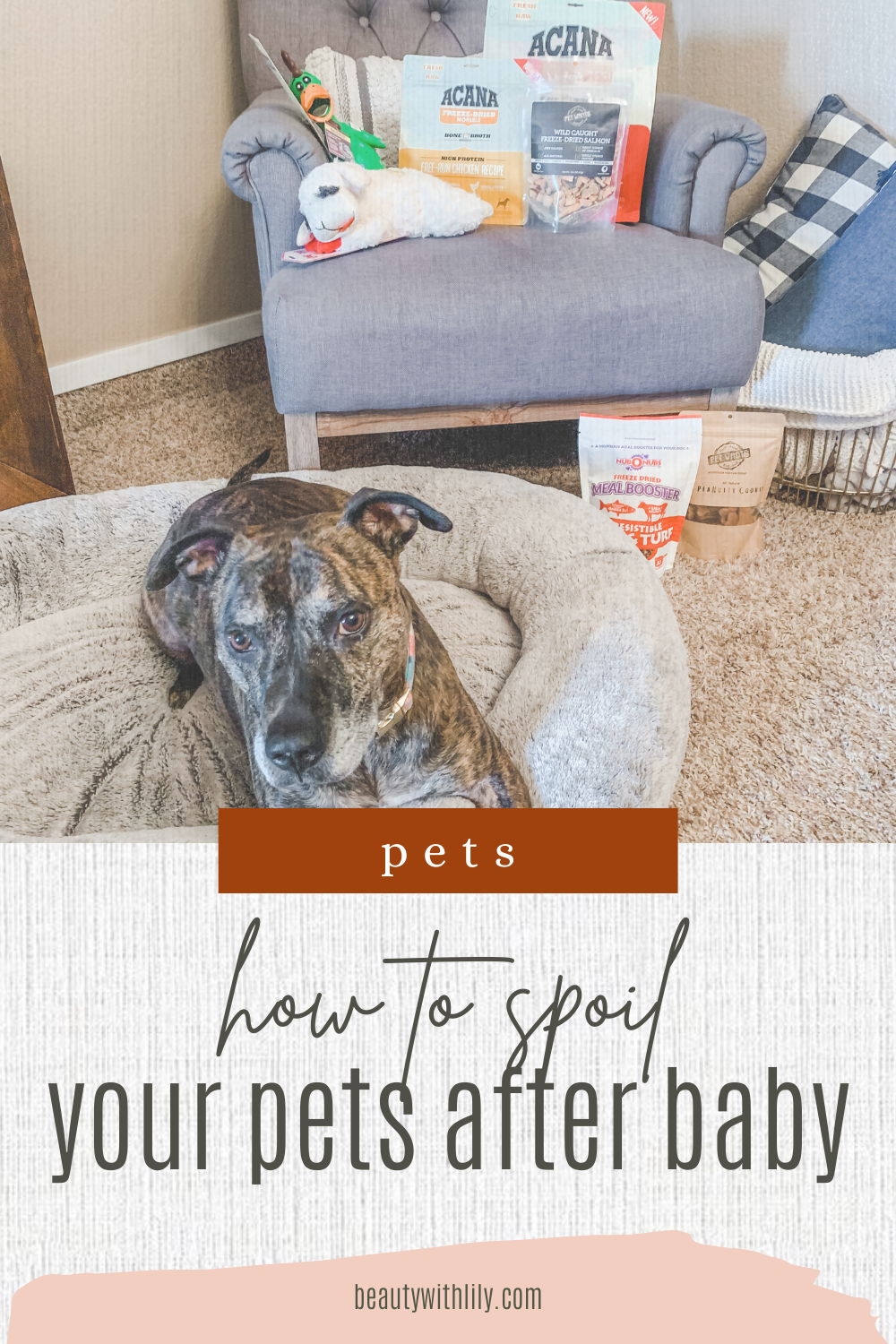 0