Have a friend who has had a miscarriage and don't know how to help? These tips on how to show support after a miscarriage will help you and your loved one.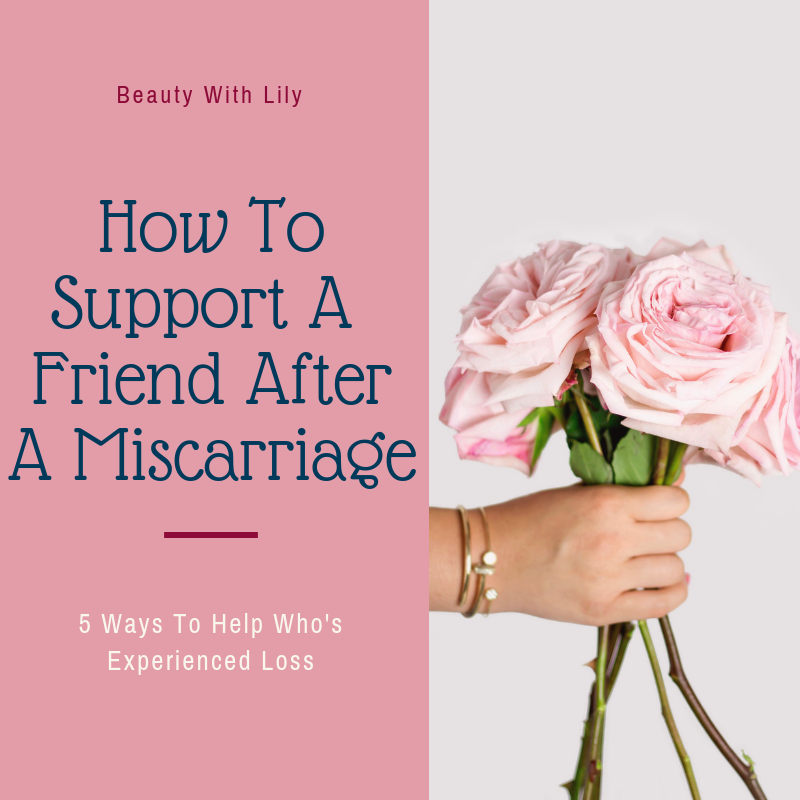 This post may contain affiliate links. Meaning that any clicks/purchases may result in a small commission to keeping Beauty With Lily running at no additional cost to you. 
In case you weren't aware, the month of October is National Pregnancy and Infant Loss Awareness Month and October 15th was recently named National Pregnancy and Infant Loss Remembrance Day. I've share our infertility journey before, along with the tough road we've been on over the last 7 years. It hasn't been easy, especially since we've also experienced several miscarriages. Over time, we've lost friends, "friends" didn't reach out when we were going through one of the hardest times in our lives and I would hate for anyone to go through that. So in today's post, I am sharing how you can show support after a miscarriage to a loved one. 
How To Show Support After A Miscarriage  
I'm sure that one of your first instincts is to ask "what can I do to help you?"  Or even try to to put yourself in her shoes, but if you haven't experienced this type of loss, you may come up with nothing. My world came crashing down after our first miscarriage, I did not know what to do, what to think, who to blame, nothing! And your loved one may feel the same, so just reach out by letting her know that you are there for her and whatever she may need.
Don't Be Silent, Reach Out
Don't be silent just because you feel awkward. Send her flowers with a thoughtful note, or even a simple text like "I'm thinking about you." She may not reply, but at least she knows you are thinking about her, she needs to know that she is not alone during this difficult time. Let her know that you are there for her whenever she's ready to talk, she may not be ready to talk about it, but simply having your availability are what matters to her.
Know The Power Of Your Words
It may be so easy to say something like "everything happens for a reason," or "at least you got pregnant" or "at least you were only X weeks along." Even if you have good intentions, to her it's hurtful…she just lost a baby, after all. Saying things like this may seem slightly dismissive of a life that didn't get to really begin. If you don't know what to say, just say "I'm sorry," "my heart is with you," or "I'm available if you'd like to grieve or talk, I promise to listen and not judge."
Related: The Truth About Infertility 
Give The Gift Of Self-Care
If your friend likes massages, treat her to a massage or a pedicure. Something that will allow her to care for herself, during her time of grief. For me personally, there were times where I wouldn't even bother to get out of bed all day — I felt like I didn't have a purpose. Taking her out, letting her know that she is important and allowing her some girl-time can be beneficial during this hard time.
Offer Practical Help 
Don't be vague and ask her "let me know how I can help." Instead take the guesswork out of things for her and offer something concrete like: "I will be bringing dinner for you tomorrow night, will that work, or is tonight better?" or  "I'll be out running errands tomorrow, what can I do for you." or "I'm sending my cleaning lady over, will tomorrow or the next day work best for you?" Just make sure to follow her lead, some women may not like having someone else cleaning their space. If you're having a hard time figure out what she needs, ask her husband or ask her. If she rejects your offers, don't take it personally. Try again in a week or so.
Related: Mother's Day & Infertility
Give Her A Thoughtful Gift
It's not about buying something expensive, it could be something as simple as a care package, a few of her favorite treats, flowers, or you could also put together a "date box" package; like a movie, popcorn, snacks and a bottle of their favorite wine. Something both her and her husband can enjoy together.
Have a friend who's experienced infant loss or a miscarriage and don't know what to do? These tips on how to support a friend after a miscarriage or loss will help you and your loved one.
Click To Tweet
Related: The Not So Good Days
Thank you for taking time to read this and for wanting to help your friend. It's human nature to want to shut down and not know what to do or say. But by reaching out, you are helping her know that she is not alone and there is nothing more a heartbroken friend needs during loss. Please don't be silent, please don't avoid her. Tell her that her loss matters and that you care.
Found this post helpful? Feel free to pin this post and share it with your friends/family. It's greatly appreciated!
3